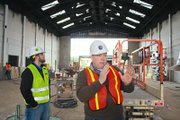 DALLAS -- The Col. James Nesmith Readiness Center was buzzing last week with construction crews working to finish the new home of Dallas' Oregon Army National Guard 162nd Engineer Company.
By the end of summer, project managers expect to trade construction workers for guard soldiers conducting weekend drills.
"The project is going well," said Jim Willeford, the Oregon Military Department's construction chief. "It's on schedule and on budget."
Willeford said construction is on track to be finished by Aug. 1. That will allow for a month-long "burn-in" to make sure all building components are working properly and flush out any noxious fumes left over from construction.
The predicted move-in date is Sept. 1, with the 162nd's first drill weekend in its new center scheduled Sept. 7-9.
An open house for the public is slated for a yet-to-be determined date in October.
"They put us on a quick schedule," said Gary Van Drew, project manager. "It was scheduled for completion in two years, but we are going to be able to complete it in 14 months. And that's with the weather challenges, the snow, rain and wind we've been having."
Challenges notwithstanding, the center's buildings are nearly complete and the outside landscaping and parking lots are beginning to take shape.
THA Architects/for the Itemizer-Observer
A site drawing shows the overall design, including the gabion wall separating military and community areas.
Willeford said the center was designed for dual purposes, one military and one community-oriented.
"We want the building to be a community center," Willeford said.
In fact, its success in attracting event rentals may have implications to its maintenance bottom line. Willeford said while the federal government has generously funded construction of the building, it's much tighter with maintenance budgets. He said it's mandated new centers be able to generate their own revenue through rentals when not being used for military purposes.
Under those circumstances, design is key.
The part of the building open to the public, the assembly hall, classroom space and kitchen, has been designed to be both utilitarian and aesthetically pleasing.
The 5,800-square-foot assembly hall features floor-to-ceiling windows on two sides, allowing for abundant natural light.
Other public areas also use plenty of windows, nearly eliminating the need to use electricity for lighting during the day.
Outside the assembly hall near the public entrance will be a grassy courtyard area and grove of trees. On the opposite side of the hall
will be a large deck.
Willeford said in the lobby a piece of the former Dallas armory's drill hall floor will be displayed with a kiosk detailing the history of the building, which stood in downtown Dallas until early April.
Timber from the old armory also will be refashioned into tables, benches and couches used throughout the center.
Willeford said designers had considered using the timber in construction, but due to timing issues weren't able to do so.
He said the furniture will be a daily reminder to the soldiers of the unit's history in the area.
"That's the stuff they will touch everyday," he said.
The area of the center open to the public will be separated from the portion exclusively used for military operations by a gabion wall -- a wall made of wire baskets filled with rock. The unique feature is a direct reflection of the 162nd Engineer Company's construction mission.
"The architect did a good job engaging the culture of the unit," Willeford said, noting the building's core materials, concrete, rock, wood and metal, are the unit's main building blocks in the field. "The nature of the material -- robust, masculine, strong -- reflects the unit's heritage."
COL. JAMES NESMITH READINESS CENTER
Building details:
* Size: 39,813 square feet. Includes a 5,800-square-foot assembly area, 2,200 square feet of classroom space, a full-scale commercial kitchen, 1,225-square-foot small arms training simulation room, workout facility, and 4,000 square feet of equipment maintenance shop space.
* Cost: About $18 million, from federal and state sources.
* Estimated jobs created during construction: 171.
* Environmental impact: Designed to be rated Leadership in Energy and Environment Design (LEED) gold.
Timeline:
* Ground breaking ceremony: October 2010.
* Building foundation work: June 2011.
* Design completion: October 2011.
* Infrastructure complete: December 2011.
* Estimated building completion date: August 2012.
* Estimated unit move-in: Sept. 1 (after one month "burn-in" to make sure all building components are working properly).
* First scheduled 162nd Engineer Company drill weekend at the facility: Sept. 7.
* An open house will be scheduled in October.
Of note:
The assembly hall, classroom space and kitchen will be available for rent for events and community gatherings.
Address:
12830 Westview Drive, Dallas.