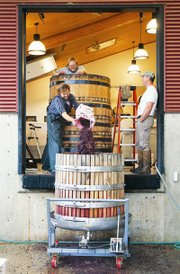 POLK COUNTY -- Winemakers across the state were said to have been "giddy" about the potential for the 2012 vintage in early October, according to an Oregon Wine Board mid-harvest report.
Now, with the year's bounty in the winery, Polk County vintners could be said to be "ecstatic" about what they are seeing in their wines so far.
"It was fantastic," said Bryan Croft, the winemaker for Firesteed Cellars near Rickreall. "You can't ask for anything better."
Mother Nature provided another gift to Oregon vineyards in 2012. But this year was different than the previous two years, when late season warmth and sun helped provide ripeness and flavor at the last minute. This year will be better known for its incredibly dry and warm summer.
Croft said it
Photo by Pete Strong
Joel Van Volkinburg uses a pitchfork to break up pressed grape skins and seeds to be used as compost.
was almost drought-like.
Almost.
Dry conditions tend to develop high sugar and acid levels and not as much flavor. But this year, late-season cooling and a timely shot of rain brought everything into perfect balance.
The coveted combination of sun and rain, and balanced sugar, acid and flavor has the potential for a memorable vintage.
"It's like cooking," Croft said. "We have amazing ingredients. The weather was very cooperative."
Achieving that balance early gave vineyard managers and winemakers a bonus: a relatively even-paced, low-stress harvest.
Brad Ford, the winemaker at Illahe Vineyards near Dallas, said last season was so late his crew
Photo by Pete Strong
Assistant winemaker Gabriel Jagle pours a bucket of wine into a pressing cask at Illahe Vineyards Friday.
had only one day off between putting the 2011 vintage into barrels and opening for busy Thanksgiving weekend tastings.
"Last year, we finished barreling down on Wednesday (before Thanksgiving)," he said. "We went to Thanksgiving and then we opened on Friday (for tasting). This year we will be a couple of weeks ahead, so that's pretty cool."
Croft said producing the elegant, balanced wines expected from Oregon usually involves a painstaking season-end wait for ripening and flavor development. That often results in a frantic harvest before heavy rain arrives.
Not this year.
"I think it's a well-earned reward," he said. "This year we were always ahead. The two previous years we were behind from the beginning. In those years you don't know if there is enough (good) weather left."
With the potential for outstanding wines, Croft has only one complaint: Partially due to early-season cool weather conditions producing an uneven bloom, yields across the state are down.
"We wish we had more," he said of the harvest.
The 2012 season's warm weather prevented two issues common to cooler, wetter years: mold and birds.
"We didn't have any mold or botryis," said West Salem's Bethel Heights Vineyard winemaker Ben Casteel. "The grapes were as clean as I've ever seen them."
For the most part, the birds stayed away, too, Casteel said.
On Bethel Heights' estate vineyard, they didn't even turn on the bird-scaring propane cannons.
Casteel is understandably nervous to label 2012 "stress-free" given how early it is, but is nonetheless optimistic.
"We have been throwing around vintages, just because we can't help it," he said last week. "Here at Bethel Heights, 2002 seems to be the one we compare it (2012) to because it was a warm vintage that sidestepped some of the pitfalls of warm vintages."
Recently, he opened a bottle from 2002 to see how it has aged.
"They have been holding up nicely," he said. "That gives me heart for this vintage moving forward."
Casteel said his expectations are for wines that will be the best of both worlds, in wine drinking terms.
"They will provide a lot of drinking pleasure in their youth and have potential to age as well," he said.
Ford uses stronger terms.
"I would buy as much as I possibly could," he said. "If you are a wine drinker, buy as much as you can afford. It's great. It doesn't come around every year."
Ford said he doesn't want to imply other years are disappointing. He said the 2011 vintage being released now includes plenty of fine wines. Some years - like 2012 is shaping up to be - are just special.
"Every winemaker says each game is a win," Ford said. "We won every game, but some of them are blowouts and some of them are not. This year is kind of a blowout."
More like this story