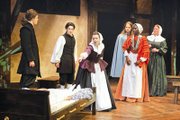 MONMOUTH -- Hypocrisy, intolerance -- there's something about the subject matter of Arthur Miller's "The Crucible" that frightens Christine Greenhalgh.
Greenhalgh, who portrays Abigail Williams in an upcoming production of the play at Western Oregon University, said that fear stems from how things have changed since the Salem witch trials of the late 1600s.
Or not.
"It's eery, things ... like mob mentality against people, we're still dealing with today," she said. "That
themes like that
are still relevant is interesting and cool, but also scary in that we haven't gotten past that point."
It's that relevance that has kept Miller's allegory for 50s-era McCarthyism a staple of live theater.
Western gets its shot at a classic starting Thursday, with a two-week run of "The Crucible" at Rice Auditorium.
WOU professor and director David Janoviak said while he's acted in Miller plays, this is his first time directing one.
"You have Eugene O'Neill, Tennessee Williams and Miller ... he's one of the American greats," Janoviak said.
"The Crucible" is set in Salem, Mass., in 1692 and centers on the hysteria that arises after a group of girls are suspected of witchcraft. They -- led by the manipulative Abigail -- in turn threaten to name various townspeople as witches.
"The emotional journey these characters have to take is a difficult one," Janoviak said. "Getting young actors to go there and play to that truth is a challenge, and I think our cast meets that challenge."
There are a few novel components of this particular production.
Western doesn't often cast parts outside of the student body. Instead of artificially aging students for older characters this time, Janoviak auditioned experienced middle-age and senior actors from the region to fill key roles, like the pretentious deputy governor Thomas Danforth.
"We live in a small world with WOU theater and this gives them a chance to work with different sets of experience," Greenhalgh said.
The period costumes for the show, meanwhile, have been chiefly designed and created by WOU student Izzy Bristow, who's working under the mentorship of head costumer Sandy Hedgepeth.
"To have a student design a faculty-directed, main-stage show
only happens when we have an extremely gifted student," Janoviak said. "Izzy has done an amazing job researching and rendering this play."
Greenhalgh said most of her experience in WOU productions has been musicals -- she's had prominent roles in "Reefer Madness" and "Thoroughly Modern Millie." Portraying the antagonist in a drama is a different animal, she said.
"There's no villain that thinks they're a villain," Greenhalgh said. "She doesn't think she's a villain, she thinks she's `God's finger.'"
Janoviak said the themes will draw people in because it's all recognizable.
"It's largely about how we respond to fear," he said. "We have it in our politics, or socially, with ethnic groups, religions and sexual orientations."
On Stage at Western
What:
Western Oregon University department of theater and dance presents "The Crucible," by Arthur Miller.
When:
Performances will run Wednesday through Saturday and Nov. 14-17. Starting time for all shows is 7:30 p.m. A matinee is also scheduled for 2 p.m. on Sunday.
Where:
Rice Auditorium, WOU campus, 345 N. Monmouth Ave., Monmouth.
Cast:
The cast of eight includes Christine Greenhalgh as Abigail Williams, John Rogers as John Proctor, Trevor Jackson as Rev. Samuel Parris, Clare McKay as Tituba and Erin Cunningham as Elizabeth Proctor.
Admission:
$7 for students, $10 for seniors and $12 for general. Seating is limited to 100 per performance.
For more information or tickets:
503-838-8462. The box office is open from 12:30 to 4:30 p.m.