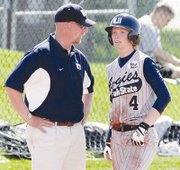 MONMOUTH -- For Lonny Sargent, it was just the right time.
"I always knew I was going to get back into college coaching once my kids were in college themselves," said Sargent, who spent the last three seasons as the head coach at Reynolds High in Troutdale.
After six years away from the college game, the 45-year-old Sargent will make his return as Western Oregon University's seventh head softball coach, as announced by interim athletic director Jon Carey last week.
He replaces Pam Knox, who resigned in August to take an administration role at the University of Hawaii at Hilo after 10 years with the Wolves.
"This was my opportunity to step out and return to college -- it's a position that's always intrigued me and I thought (WOU) would be a great place to be," Sargent said.
Sargent brings with him 20 years of coaching experience, including a two-year stint as the head coach at Division I Utah State (2005-06). He served as an assistant for the Aggies in 2004 after working the same position for one year at Troy University in Alabama.
Prior to Troy, Sargent spent six seasons as the head coach at Mt. Hood Community College in Gresham, where he compiled an overall record of 175-98.
He's also held coaching positions at Warner Pacific College, Sunset High in Beaverton and Sherwood High. Sargent's overall collegiate coaching record is 206-165.
"(Western Oregon) is a great university, a great spot and I've been meeting with the players, trying to get involved," he said. "They've been great, they're very enthusiastic and they're just itching to learn and to be taught."
Sargent plans to keep on assistant coach Marie Stone, who is entering her third season with the program.
Of his coaching style, Sargent referred to his passion for the game.
"I think that I can be demanding and softhearted, very excitable and I love when things are going well, but I like to teach players how to handle it when things aren't going so well," Sargent said.
"The best part about it is that I'm hoping that my enthusiasm for the game rubs off on them and their youthfulness and passion for the game at the highest level rubs off on me.
"That's the great part about being able to coach."
Sargent has two children; Brock, who attends Northwest Nazarene University and McKenzie, who is currently a student at WOU, and resides in Gresham with his fiancee, Erin.