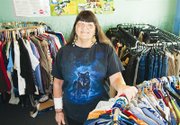 DALLAS -- Jinett Yeager experienced tragedy in 1988 when her 7-year-old daughter, Michelle, died in a house fire.
She was overwhelmed with grief, but she was struck by the incredible kindness people offered her family afterward.
"People from all over the United States sent me stuff -- even a year after that," Yeager said. "I always wanted to give back for what I was given."
Six years ago, the Dallas resident found her mission.
"I was not one for going to church much, but I woke up one morning and said `I'm going to go to church.'"
She began attending Dallas Nazarene Church and about a year later an opportunity presented itself.
"One Sunday in the brochure, it popped out in big bold black letters: They needed a CASA worker for the CASA closet," Yeager recalled.
CASA (Court Appointed Special Advocates) is a program that appoints volunteers as court-system advocates for children in the foster care system. The "CASA Closet" helped meet clothing needs for those children.
She couldn't stop thinking about it and one day sat down and prayed.
"Is this my way of giving back?" she asked.
The answer must have been 'yes' because she volunteered the next day.
She soon found out how much a volunteer was needed.
"When I went in there, there was hardly anything in it," she said. "What was in there was dirty, stained and worn out. I ripped it all out."
She stocked it with new and gently used secondhand clothing and renamed it Jinett's Clothing Closet. She opened the nonprofit to the general public shortly after taking it over.
There's been no shortage of need, especially in recent years.
Her 2012 back-to-school giveaway served 500 families, giving away more than 2,600 articles of clothing. Her first coat giveaway in September handed out 142 warm jackets.
"When people need this clothing it's hard for them to ask for it," Yeager said. "I tell them they can come to the closet anytime they want and they can take as much as they want. There's no limit on it."
In addition to the back-to-school event and coat giveaways, Jinett's also sponsors a toy giveaway around Christmas.
"We set up an arts and crafts table for kids while their mothers shop for Christmas for them," Yeager said.
Jinett's has become a partner with several local nonprofits and government agencies, including the Polk County Resource Center, local schools, Polk County Mental Health, SABLE House, the New Hope Center, Head Start and area police departments.
Yeager also has begun to give assistance to fire victims, a circumstance she can relate to.
While many consider Yeager's work a blessing, she has a different perspective.
"When I lost my daughter, it was just devastating," Yeager said. "You take a long time to heal.
"These people, when they are coming to the Closet, they are blessing me. What I want with my Closet ... is for them not to feel alone. To feel that we do care and that we love them. And that we will open our arms to them in any way that we can."
Jinett's Clothing Closet is open by appointment. The closet is located at Dallas Nazarene Church, 341 NE Kings Valley Highway.
Donations are always needed, especially clothing for children of all ages. Toys for the Christmas toy drive are accepted year-round. To schedule an appointment or to donate: 971-208-4249.