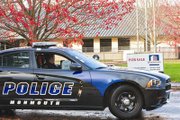 MONMOUTH -- The city of Monmouth will convert the former Forest Capital complex off Highway 99W into a new headquarters for its police department -- as long as citizens say "yes," that is.
Officials signed a contract last week to buy the 8,600-square-foot facility at 450 Pacific Highway N., which has been vacant for about a year, at a cost of about $1.515 million.
The sale hinges, however, on voters approving a $3.5 million to $4.5 million bond that would cover the purchase price and necessary renovations.
That issue will be on the ballot during the May 2013 primary election.
"I absolutely feel that this is something the city needs to do," Mayor John Oberst said. "We wouldn't be asking otherwise."
The city has long mulled the need for a new police station, particularly after an assessment of its public facilities in 2011; except for the relatively new Monmouth Public Library, every city-owned building needed an upgrade, with the police station as the top priority.
Monmouth Mayor John Oberst
The existing 3,000-square-foot building at the corner of Knox and Jackson streets is cramped and has a poor layout for law enforcement needs -- it was a library until 1995. Some equipment and most patrol cars, meanwhile, are stored more than a block away at Volunteer Hall.
The building's shortcomings have become more acute with time and the building can't be modified to improve long-term use, Oberst said.
The old Forest Capital property, now owned by R.F. Wilson Trust, once housed the regional headquarters of Boise Cascade. The building was destroyed on Christmas Day in 1999 by an arson fire set by the Earth Liberation Front (ELF).
A new building was erected and later acquired by Forest Capital. That company relocated to Independence in early 2011.
After the building was listed for sale in February, Monmouth leaders hired architectural firm Group McKenzie to determine the feasibility of converting the complex into a police station.
"They had a really favorable conclusion," said City Manager Scott McClure. "A big benefit is it's somewhat fortified after the terrorist attack -- it's closer to public safety standards than a regular building would be."
The cost of buying the building and renovating it would also be cheaper than constructing a new police station, hence, negotiations, Oberst said.
"The contract was for $1.715 million, but the owner actually gifted $200,000 as a donation to bring the price down," McClure said.
Still, the city has a $1.9 million fund balance in its budget and a property purchase would nearly zero it out, McClure said.
"We still couldn't pay for all the renovations we have to do," he said.
A bond measure scenario made sense given the timing, Oberst said. A previous bond used to construct the Monmouth Public Library will expire soon, which will help minimize the impact of a new tax levy for residents.
What the proposed tax rate would be per $1,000 of assessed value isn't set yet, McClure said.
"We need to do an analysis of the property with financial experts," he said.
Oberst said he was "cautiously optimistic" that residents would find the project reasonable.
"It is never fun to ask taxpayers for additional support," he said. "This project, and our police department, are deserving of that support, however.
"Monmouth's government doesn't spend easily, nor frequently, and the fact that we are asking should be evidence of the reality of the need."