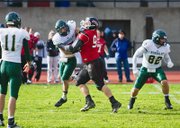 MONMOUTH -- With one more strong statement, the Western Oregon University football team ended its season on a high note with Saturday's 38-22 win over Humboldt State at McArthur Field.
The win gave Western Oregon (7-4, 6-4 Great Northwest Athletic Conference) sole possession of second place after sweeping the season series with the Lumberjacks (7-4, 6-4).
The victory also gave Central Washington, which defeated Dixie State Saturday, the outright GNAC championship.
Western freshman Ryan Bergman -- who had plans to redshirt this year before former starter Cody VonAppen was sidelined with a shoulder injury -- led the way at quarterback in the win. He completed 20-of-32 passes for 320 yards and three touchdowns.
WOU never trailed, as the Wolves marched 45 yards on their first possession, capped by freshman Leighton Panui's 1-yard plunge over the goal line.
Humboldt responded with two field goals to cut WOU's lead to one, but Wolves senior Michael Akins picked off a Humboldt pass and returned it 34 yards for a touchdown to give Western a 14-6 lead.
Bergman hit Lucas Gonsalves for a 4-yard touchdown pass before the half, as WOU pushed its advantage to 21-6 at the break.
HSU made one more charge in the third quarter by scoring 10 unanswered points before Bergman took over, throwing two more TD passes -- a 39-yard connection to Nathaniel Penaranda and a 10-yard score to Mark Moore -- to keep the Lumberjacks at bay.
Joe Harris led Western's rushing attack with 89 yards on the ground. Spencer Royce caught two passes for 81 yards to lead the Wolves in reception yardage.
Scotland Foss totaled 11 tackles in his final game for WOU.