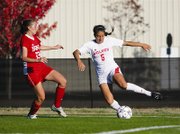 MONMOUTH -- The Western Oregon University women's soccer team placed five student-athletes on the Great Northwest Athletic Conference all-league squad and WOU head coach Steve Ancheta was named GNAC Coach of the Year.
Steve Ancheta
For the second consecutive season, midfielder Lindsay Bauman earned first-team honors as she led the Wolves with five goals, five assists and 15 points this season. Bauman was joined on the squad by Rebecca Hoiland and Marina Austin as each earned second-team honors.
Kymberly Witmer and Gonzalez round out the WOU selections as they earned honorable mention honors.
For her performance throughout the season, Melissa Gonzalez was also named the GNAC Newcomer of the Year. Gonzalez's selection marked the second consecutive season a WOU player was named newcomer of the year as Bauman won the honor a year ago.
Ancheta picked up his first collegiate coaching honor as he helped lead the Wolves to their best conference finish since the 2002 season.
In other league awards, Western Washington goalkeeper Jamie Arthurs was named GNAC Player of the Year; Brina Sych of WWU was named GNAC Defensive Player of the Year; and the Vikings' Catherine Miles was named GNAC Freshman of the Year.