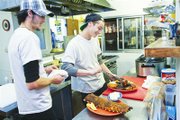 DALLAS -- Dining options in Dallas have expanded in recent weeks as two restaurants have opened and a third will soon follow.
Red Chopstick, a Korean and Asian food restaurant, opened in the former Dallas Burger Char Grill Chicken Basket location on Nov. 8.
Cactus Corral, specializing in barbecue, began welcoming diners earlier this fall in the former Taco Time location on East Ellendale Avenue.
Scheduled to move from food cart to four-walled restaurant is El Pique Taqueria, the popular taco cart that served loyal customers at Polk County Bounty Market last season. Owner Joe Salcido is slated to open a new location in Suite 401 of Ellendale Plaza on East Ellendale in December or January. For now, the food cart is open at the location on Thursdays and Fridays from 11 a.m. to 8 p.m. and Saturdays from 3 p.m. to 8 p.m.
Red Chopstick owner Sean Chung, who also owned Dallas Burger, decided to go in a different direction with his new establishment.
Chung persuaded Yi Son, a chef with 40 years of experience cooking Korean food, to come to Dallas.
"I'm lucky," Chung said of landing Son. "He's going to give Dallas a try."
The restaurant will serve traditional Korean and Chinese cuisine and sushi.
Chung, also the owner of Dallas' Thrifty Market, said he will keep one philosophy from his previous restaurant: offering good food at an affordable price.
"I understand the economy," Chung said. "I go as low as I can."
Korean entrees vary in price from $8.95 to $32.95, with most less than $12. Chinese options are $7.99 and sushi rolls range from $4.25 to $9.99. A lunch buffet is available from 11 a.m. to 2 p.m. for $7.99.
For those with a taste for barbecue, the menu at Cactus Corral featuring ribs, brisket, pulled pork, burgers and sandwiches may be worth a try.
"I try to cook more of the Memphis-style (barbecue)," said owner Carl Hoover. "I use dry rubs and make my own barbecue sauces. I don't marinate any of my meat."
Hoover started off his culinary career in Texas, working in country clubs before moving west and landing at the Two Bunch Palms Resort in Desert Hot Springs, Calif., where he prepared spa cuisine for celebrity clientele.
About a decade ago, Hoover moved to Dallas to help care for his mother and become an executive chef at Spirit Mountain Casino.
Hoover said he decided to open his own restaurant, as ironic as it might sound, to spend more time with his family. The restaurant is truly a family operation, with Hoover's kids and nephews and nieces working along side him.
"Actually, it's for my kids. I want to pass it on," Hoover said of opening Cactus Corral. "I'm been trying to do this for 10 years."
Barbecue platters range from $9.95 for sliced brisket to $16.95 for a full rack of baby back ribs. Sandwiches and burgers range from $6.50 to $12.75.
Let's Eat!
CACTUS CORRAL
Address:
365 E. Ellendale Ave., Dallas.
Hours:
Tuesday through Saturday, 11 a.m. to 8 p.m.; Sunday, 11 a.m. to 5 p.m.; closed Monday.
Phone:
503-480-9056.
RED CHOPSTICK
Address:
433 Main St., Dallas.
Hours:
Sunday through Thursday, 11 a.m. to 9 p.m.; Friday and Saturday, 11 a.m. to 10 p.m.
Phone:
503-831-0333 or 503-623-4594.