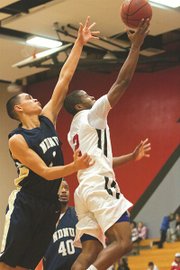 CAPITAL CITY CLASSIC
When:
Friday-Saturday.
Where:
Corban University, Salem.
Tournament Schedule
MEN
Friday:
Western Oregon vs. Carroll, 5 p.m.
Saturday:
Western Oregon vs. Corban or Willamette, TBA.
MONMOUTH -- So far, the depth game is working for the Western Oregon University men's basketball team.
The Wolves (2-2) used an array of players in two big wins over the weekend, as WOU defeated Notre Dame de Namur (73-51) and Emporia State (65-60) Friday and Saturday to capture the WOU/Phoenix Inn D2 Shootout tournament title.
In Friday's victory over the Argonauts (0-2), 10 players played 10 minutes or more to help the Wolves execute a harassing defensive attack that forced Notre Dame de Namur into 17 turnovers.
Three players scored in double figures for WOU, led by freshman Jordan Wiley's 15 points. Devon Alexander added 13 points and four rebounds, Rodney Webster had 11 points and Nathaniel Carter completed a solid contest with eight points, six steals and four assists.
Saturday, Webster came up big during a 17-4 scoring run with 10:38 remaining in the second half that helped WOU pull away in a tight game.
Webster scored six of his 17 points during that rally, joining three other Wolves in double-figure scoring. Andy Avgi and Devon Alexander each scored 12 points and James Gehring added 14 points off the bench as WOU shot 42.2 percent from the field for the game.
Once again, second-year WOU coach Brady Bergeson utilized his bench, as eight players saw the court for 10 minutes or more.
The Wolves outshot Emporia State (3-1) at the free-throw line, going 22 for 29. The Hornets went 8 for 10 at the line.
Western returns to action in this weekend's Capital City Classic, held Friday and Saturday at Corban University. WOU opens the tournament with a 5 p.m. matchup against Carroll Friday.