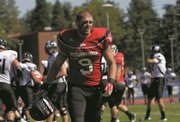 MONMOUTH -- The Western Oregon University football team placed 11 players on the Great Northwest Athletic Conference all-league squad.
WOU junior Gustave Benthin led the way as he was named the GNAC's co-Defensive Lineman of the Year after tallying 60 tackles -- 12.5 of them for loss -- and three sacks.
Benthin shared the award with Azusa Pacific's Manko Tuifua.
Six of the GNAC honors were first-team selections, led by senior defensive back Bryce Peila, who was named to the first team for the third straight season.
Peila was joined on the first team by Tyrell Williams (sophomore wide receiver), Kelly Morgan (senior kicker), Benthin, Scotland Foss (senior linebacker) and Alexander Bradt (freshman punter).
WOU's selections on the second team included Kraig Akins (senior defensive lineman), Gavin Drake (senior defensive lineman), Sipili Tuigamala (junior defensive lineman), Marcus Cuellar (junior offensive lineman) and Alex Jones (junior offensive lineman).
Humboldt State junior running back Nick Ricciardulli was named the GNAC's Offensive Player of the Year and Central Washington junior linebacker Stan Langlow garnered Defensive Player of the Year honors. Simon Fraser's Lemar Durant, a sophomore wide receiver, was named the Newcomer of the Year, Central Washington's Cedrigue Chaney (defensive back) was tabbed the Freshman of the Year and co-Coaches of the Year honors went to Simon Fraser's Dave Johnson and Central Washington's Blaine Bennett.