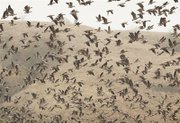 Christmas pageant
tickets available
Tickets are now available for the annual Rickreall Christmas Pageant.
The event that tells the Nativity story has been staged since 1938. This year's production is scheduled Dec. 6-8 at the Rickreall Event Center, 300 Main St. (Highway 99W), Rickreall.
Admission is free -- donations are accepted -- but tickets are required.
To order tickets or for more information: 503-623-0958; www.RickreallChristmasPageant.com.
Orchid sale slated
on Thursday, Friday
West Valley Hospital Volunteer Services will conduct an orchid sale Thursday and Friday from 7 a.m. to 4 p.m.
Approximately 30 different orchid varieties will be available for purchase. Prices are $12 each or two for $20 for plants in 3-inch pots, or $17 each or two for $30 for plants in 4- and 5-inch pots.
Proceeds from the sale benefit the West Valley Hospital Volunteer Services scholarship program for Polk County high school students who will pursue a health care-related field.
The sale is located right inside the front door of West Valley Hospital, 525 SE Washington St., Dallas.
For more information: 503-623-7323.
FC Garden Club
to meet Thursday
Glenda Sylsberry will discuss the intricacies in growing and propagating fuchsias during a meeting of the Falls City Garden Club on Thursday at 7 p.m. at Mountain Gospel Fellowship Church.
Sylsberry began growing fuchsias about 10 years ago, but became serious about raising and propagating them the past couple of years. She will share tips on how to care for your plants before blooms can appear and keep them safe through the winter to enjoy them year after year.
Following the presentation, refreshments will be served and a short business meeting conducted.
For more information: Gladys Norman, 503-787-6105; Glenda Sylsberry, 503-787-1704.
Holiday book sale
set this weekend
Friends of the Monmouth Public Library will conduct its annual holiday book sale Friday and Saturday at the library, 168 S. Ecols St.
The sale will include nearly-new books and gently-used books, as well as an assortment of video tapes and other materials.
Sale hours are Friday from 2 to 6 p.m. and Saturday from 10 a.m. to 2 p.m. A special "members-only sale" for Friends of the Monmouth Library takes place Thursday from 6 to 7:30 p.m. Members may purchase up to four books during the special event.
Proceeds from the sale help cover the cost of children's programs and other expenses at the library.
For more information: 503-838-1932.
Saturday breakfast
on tap in Monmouth
Monmouth Senior Center will host its monthly all-you-can-eat community breakfast fundraiser, with a special appearance by Santa Claus, on Saturday from 8:30 to 10:30 a.m.
Cost is $6 per person, $3 for children under 12. The meal includes pancakes, sausage, scrambled eggs, biscuits and gravy, and orange juice, coffee and tea.
Proceeds benefit the Monmouth Senior Center building expansion fund. The center is located at 180 S. Warren St.
For more information: 503-838-5678.
Gospel performer
schedules concert
Charlie Walker, one of the Pacific Northwest's top country-gospel artists, will perform a concert in Dallas on Sunday.
Walker will appear at Evangelical Bible Church, 1175 SE Howe St., beginning at 4 p.m. The public is welcome.
Walker shares the gospel through song, scripture and personal testimony. The Biblically-based and life-inspired songs he writes and sings make it easy for audiences to relate to him.
For more information: Harold Rempel, 503-623-3877.
M-I Rotary Club
selling rum cakes
Monmouth-Independence Rotary Club is in the midst of its holiday rum cake sale.
The club is selling 4-inch cakes made locally by Barbara Storey Rum Cakes in three flavors: original, lemon and chocolate fudge. Cost is $9 per cake or $8.50 for orders of 10 or more cakes. Each cake comes in a decorative white gift box.
The sale continues through mid-December. Proceeds support the Rotary Club scholarship, dictionary and youth exchange programs.
For more information: 503-838-6687; online at www.mirotaryclub.com/rum-cakes; email to rumcake@mirotaryclub.org.
Tickets on sale
for 'The Nutcracker'
Tickets are now on sale for the Dallas Ballet & Academy of Dance production of "The Nutcracker," playing at Dallas High School's Bollman Auditorium on Dec. 7-8.
The show begins at 6:30 p.m. both nights. Tickets are $7.50 and can be purchased at Dallas Ballet's studio, 131 SW Court St., or at the door if the shows are not sold out. Teachers can see the performance for $5.
For more information: 917-218-0121 or email info@dallasballet.biz.
Material donations
sought by group
Buena Vista Community Church is seeking donations of fleece, cotton flat knits and pure cotton for its charitable giving program.
Volunteers of the "Common Thread Sewing Group" use the fabric to make baby clothes, dresses and blankets for both needy local families and to send to poor populations abroad. Those who can sew are also welcome to lend their talents to the cause.
To donate fabric, contact Kay Godfrey at 503-838-1206 or Sandie Park at 503-838-1405. Common Thread meets two or three Mondays every month at the church, 457 Rodeo Road.