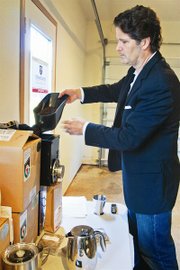 DALLAS -- Douglas Graven likes a good cup of coffee -- to the point where he's done extensive research to find the best beans, brewing method and even storage containers.
Now Graven, a Dallas resident, has expanded his research to learning to roast beans in hopes of turning his passion for great coffee and the "buy local" trend into a coffee roasting business, called PrimoCaffe Coffee Roasters.
At first Graven considered opening a coffee shop, but decided to do more research on day-to-day coffee shop operations. He thought learning to roast coffee was a good place to start.
"I realized that I actually really love the roasting process, probably more than I would like owning a coffee shop," he said. "I sort of stumbled into it that way. I have a passion for coffee, but this whole process of roasting I find quite fascinating."
So his plan of opening a coffee shop became a different path altogether.
Photo by Pete Strong
Primocaffe Coffee Roasters
Formerly a Silicon Valley venture capitalist, technology start-up guy and overseas business consultant (in the coffee business, naturally), Graven uses decidedly modern methods to roast coffee. He found an easy to use commercial-grade roaster that takes out the guess work.
"This is basically a hot air popper, cooking the beans in a very controlled process," Graven said. "It has number settings for light roasts to a dark French roast. You turn it on and it goes through the whole roast profile and does a cool down on its own. In about 18 minutes it's done and you have fully roasted beans.
"Essentially, this is all you do," Graven said as he pushed the button to start the roaster, which is temporarily located in the garage of his northwest Dallas home.
It sparked to life with the sound of whirling air and 1.3 pounds of beans began to bounce and dance in the roaster.
"You don't have to do anything," Graven said. "You can just sit here and watch it."
He logs all the pertinent information about each batch -- weight, type of bean, roast profile, room temperature and humidity -- into an iPhone app to keep track of all the variables.
Graven has only been roasting for about two months, but has already set up a website for retail and commercial sales and has been making the rounds to local restaurants and coffee shops, dropping off samples for consideration. Graven compares his quality -- and price -- to anything produced by Portland's artisan roasters.
He uses fair-trade organic varieties, as well as brand-entitled Cafe Femenino, which buys coffee exclusively from female coffee growers.
PrimoCaffe is roast-to-order and delivers locally (Dallas, Monmouth and Independence) in 24 hours.
For now, Graven is happy to roast coffee in his garage, but intends to lease space and buy more roasting machines if needed. Expansion is only part of his vision, however.
Part II of his plan is to set up a PrimoCaffe distribution network, starting in Dallas. Graven said he will build his commercial and retail business in the next few months and then turn it over to a local business interested in roasting. He will give that business his roaster and customers, while providing brand labels and coffee blends, making it a PrimoCaffe-licensed roaster. In the future, he would like to set up 50 to 100 roasters in small communities without local options.
"Right now I'm really focused on connecting the dots on the mission of buying local," Graven said. "For people in most communities who are pretty focused on keeping the life blood pumping in the community and buying local, all the profits from doing this stay in the local community."
For more information or to order, go to www.PrimoCaffe.com.