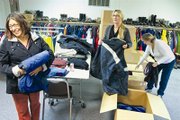 POLK COUNTY -- Lisa Johnstone of Falls City said she never knitted as a hobby until three weeks ago. With a starter loom at her side, however, she's cranked out a dozen beanies, with more to come.
"They've all turned out good," Johnstone said. "You can learn just about anything watching YouTube."
The office manager at Falls City High School, Johnstone picked up the knitting needle after hearing a parent talk about giving away mittens and hats to people who need them. With her job, Johnstone said she's accustomed to seeing shivering children pass through the front doors, often without warm clothes.
"I can see them shaking," she said. "I know they need them ... winters are very cold here."
Johnstone, her daughter, Amanda, and friend, Toni Hirbeck, have been making hats and collecting mittens to distribute to students -- or any community member, for that matter -- who needs one. She's advertised the effort on the school's reader board. Passers-by have responded with donations of fleece hats, gloves and yarn.
Photo by Pete Strong
Amanda Johnstone, Lisa Johnstone and Toni Hirbeck, from right, knit hats at Falls City High School Nov. 20. The hats will be distributed to needy community memebers.
"There's a lot of people around here who can't afford everything they need," Johnstone said. "All of us are low income, so we're helping people who are the same as us."
You can often stave off hunger for children in a school setting most of the time through free lunches -- as well as breakfast and even dinner -- for those who qualify.
Clothing is always a trickier prospect, said Buzz Brazeau, superintendent of Central School District.
"There's a lot of infrastructure out there set up to address food -- food drives, food banks," Brazeau said. "A package of pancake mix will feed anybody from ages 3 and up.
"With clothing, you have to be size appropriate ... it's more difficult."
Still, personnel and volunteers in area school districts have their means to meet those needs, whether it is seeking donations or referrals to churches or charitable organizations.
At Oakdale Heights Elementary School in Dallas, for example, officials have set aside an emergency fund bolstered through donations for sweatshirts, sweat pants, socks or shoes for families.
"Teachers look for and hear things in class," said Principal Caleb Harris. "With parent-teacher conferences, they'll pick up on things in conversations, families are in between homes or without money for Christmas."
Morrison Alternative School in Dallas is trying to form its own clothing closet for students.
"However, it's not uncommon for a Morrison teacher to take a student shopping for basic clothing items," Principal Cory Bradshaw said, noting money sometimes comes from Title I funds or grants. "We notice some who wear the same clothing everyday because that's all they have."
Polk County Commission for Children and Families has in each school district a service integration team, a network of school and local agency representatives that pools resources to meet emergency needs for families.
Between Polk's four school districts and West Salem, more than $7,400 was spent on basic or urgent needs -- which includes medical services, food and clothing -- in 2011-12.
Partnerships with churches or charitable organizations have leveraged almost twice that amount, said Brent DeMoe, PCCCF manager.
"There's always a need for winter clothes," DeMoe said. "Always."
Central, where more than 60 percent of students are on free or reduced lunch, has been home to a communitywide clothing giveaway for more than a decade.
Staff and volunteers secure large donations from Columbia Sportswear and give out items during the winter. The one-day event has drawn crowds exceeding 500.
Employees spent one morning last week unpacking and sorting through 48 boxes of fleece, winter shells, rain coats, shoes and other items for kids and adults. Another shipment is being planned for January.
"This will tide us over," said Angela Aguirre, the district's migrant family and homeless liaison. "We've been getting calls left and right for coats."
Olivia Drazdoff, health services assistant at Central, said when home budgets are tight, clothing takes a back seat to food or utility bills.
"And kids grow," Drazdoff said. "It's hard to keep up with them.
"But it makes a big difference when that child arrives at school warm and ready to learn."
You Can Help
* Donations of yarn, hats and mittens are being sought for a clothing drive in Falls City School District. For more information or to help: Lisa Johnstone, 503-787-3521.
* Central School District plans to hold its annual coat and clothing drive in January, though a specific date and time hasn't been set. For more information: 503-838-0030.
* To find out how you can help address clothing needs in Dallas and Perrydale schools, contact the Dallas district office at 503-623-5594 or the Perrydale district office at 503-623-4186.
* For more information on the Polk County Service Integration Teams: 503-623-9664.