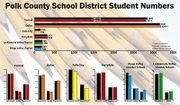 POLK COUNTY -- Collective enrollment in Dallas schools is higher than expected after one month of classes and up slightly from the same time last year. As a district, Central stayed relatively flat.
And at 38 students, Falls City High School might have its smallest enrollment in memory.
Those are some of the enrollment tallies from school districts in Polk County after the first month of classes. Those numbers have a direct impact on school budgets, as districts receive state funding based on the number of students attending classes.
Polk County districts have cited the economy as one factor in instances of declining numbers. Pat Evenson-Brady, Falls City superintendent, said it's a hard to ignore that problem in her district.
"Young families have to look for jobs in other places than Falls City," Evenson-Brady said. "That's a long term community issue, not just a school issue."
Elementary enrollment at Falls City has hovered between 90 and 100 for the past three years. But the number of students in the high school is down 22 from 60 in 2010-11. This year's senior class, nine students, is less than half the size of the Class of 2012.
In a few years, Falls City might have the smallest high school enrollment in Oregon, Evenson-Brady said.
That the numbers are
low, "is a concern, but it's not like it was a surprise."
Class sizes between five and 20 would be attractive for most districts, she said.
"We have a local levy option in place and not many districts around us have that kind of tax support," she continued. "People here are passionate about their high school."
Total enrollment in Dallas, including Luckiamute Valley Charter School, as of Thursday was 3,205. At the same time last year, the district had 3,181 students enrolled.
While the growth is modest, enrollment is exceeding state estimates. Dallas High, LVCS, Lyle Elementary School, Oakdale Heights Elementary and Morrison saw enrollment boosts.
LaCreole Middle School declined slightly, as did Whitworth Elementary, but not as much as expected.
Dallas Superintendent Christy Perry said she expected fewer students at Whitworth this year; teaching staff was actually reduced before classes began and has since been added back.
Last year, Dallas saw its enrollment fall by more than 100 students, which meant a dip in funding as state resources to the district is tied to enrollment.
"The signal to us is that enrollment is stabilizing," Perry said, adding she hopes the district has seen the worst of the fallout from a poor local job market.
Central schools totaled 2,813 as of the last available count, slightly lower than what was projected, said Rich McFarland, Central's human resources director.
While the district was relatively flat in terms of student growth or loss of students, individual schools have seen considerable changes.
Ash Creek Elementary School has 17 more students this year than 2011-12. Talmadge Middle School has an enrollment of 657 students -- 27 fewer than last year and almost 40 fewer than 2010-11.
Talmadge
Principal Perry Labounty echoed the economy sentiment.
"We're seeing more withdraws from families who've moved completely out of the area and out of the state," he said.
The smaller enrollment hasn't necessarily translated to smaller class sizes -- two staff members at Talmadge were moved to Central High and the elementary level to handle class loads there.
Perrydale School District has a total enrollment of 330 students as of last week, a few students higher than last year, according to Superintendent Robin Stoutt.
Enrollment at Kings Valley Charter School was 180 as of Monday, five fewer than the same date in 2011-12.
School districts receive about $6,000 from the state for each average, non-special needs student.
Enrollment is reported to the state daily, and appropriation levels are based on tallies in schools on certain dates in October, December, March and at the end of the year in June.