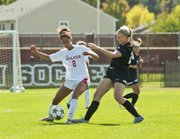 Itemizer-Observer staff report
MONMOUTH -- Marina Austin scored the game's lone goal in the 7th minute and the Western Oregon University women's soccer team's defense did the rest Saturday, as the Wolves defeated Central Washington, 1-0.
Austin netted her second goal of the season via a header off a free kick from Rebecca Hoiland to help WOU improve to 4-5-1 overall and 2-2-1 in Great Northwest Athletic Conference play.
The Wolves earned another GNAC point Thursday with a gritty 1-1 tie with perennial league contender Seattle Pacific (6-2-2, 3-1-2 GNAC).
SPU's Shayla Page scored the game's first goal in the 82nd minute to give the visitors a late lead, but WOU would respond five minutes later -- with a little help from its opponent.
After Austin fired a cross into the box, a SPU player slid to try to clear the ball out of bounds for a corner kick. Instead, she kicked the ball into the back of the net for an own goal to tie the game.
The tie was the Wolves' first point against Seattle Pacific since the 2002 season.
Western Oregon hits the road this week, as the Wolves play Simon Fraser Thursday at home and Montana State Billings on the road Saturday.
VOLLEYBALL SPLITS ON THE ROAD:
The Western Oregon University volleyball team picked up a four-set win over Simon Fraser Sept. 25, but had its five-match win streak snapped by No. 17 Western Washington Saturday. WWU (12-2, 5-1) swept the Wolves in three sets, winning 25-21, 25-23, 25-23. Danielle Reese led all players with 20 kills and Megan Triggs had 16 digs to lead WOU (10-3, 3-1) in the loss. The Wolves return to the court Saturday to host Seattle Pacific. Match time is set for 7 p.m. at the New Physical Education Building.