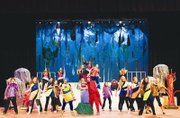 INDEPENDENCE -- Theater student Shylie Paoli said she felt there was something missing with the last musical of her junior year at Central High.
The play was "Honk!" and Paoli said her issues had nothing to do with the quality of the piece itself. As one interested in fashion design, however, the fairly spartan and implied costumes left her wanting more.
"I wanted to do as much as I could with what we already have in the costume room," she said.
Be careful what you wish for.
Paoli is part of the production crew for Central High's forthcoming take on Disney's "The Little Mermaid." As a senior project, she's overseeing the creation and assembly of all the costumes that will be used.
"It's been insanely stressful," Paoli said with a laugh. "I have a lot of respect for all the people who've put time and effort into this."
Jeff Witt, Central High theater director, said it was the collaboration needed for a play like "The Little Mermaid" that prompted him to select it as a fall production.
The cast features 40 actors -- half of them middle school students -- and almost 20 crew members.
"I think it's fun to get everybody involved," Witt said. "I think that brings more people to the show and makes big production numbers a whole lot easier when you're trying to fill the stage."
Central's play is based on the 1989 animated film and the "junior
Photo by Pete Strong
Ariel, played by Hannah Riddell, and Prince Eric, played by Zacchaeus Avila, share a moment once Ariel has traded her voice to the sea witch Ursula in exchange for legs.
version" of the Broadway show.
"There were some scenes cut out of the live play, but it still has the full story and all of the songs," Witt said.
If you're too old -- or young -- to remember the plot, "The Little Mermaid" is a take on a Hans Christian Andersen fairy tale.
Ariel, a teenage mermaid princess, becomes dissatisfied with underwater life. She yearns to learn more about humans, falls in love with a landlubber and grows legs in the process.
Central High has been breaking in its performing art center for the last two years, to good effect for this play, Witt said. For transitions to underwater scenes, for example, a fly system hauls tulle netting made to resemble seaweed up toward the ceiling.
The musical "Kiss the Girl," set on a pond in the movie, will have actors playing marine denizens and rolling around the stage on scooter boards.
As for the costumes, Paoli said she and others were able to repurpose old dance team outfits as fish costumes. Others had to be made by hand -- including the flowing crushed velvet and tulle skirts used to hide legs of the mermaid actresses. Ursula, the eight-armed villainess, is fitted with a stylized cape made to look like purple octopus tentacles.
"We wanted to spend as little as possible, but still have that `Cinderella' feel," Paoli said.
Paoli oversees a team of about 10 students and parent volunteer costumers who've worked since the start of school on outfits. Thankfully, on this day, there were only eight out of 40 costumes total left to make.
"I think the play will be really fun," Paoli continued, "especially for all those little kids who can sing along because they know all the songs."
On Stage
What:
Central High School's theater program presents Disney's "The Little Mermaid."
When:
Friday and Saturday and Oct. 17-20 at 7 p.m. There will be a 2 p.m. matinee on Saturday and a performance for senior citizens is at 6 p.m. on Tuesday.
Where:
Central High School auditorium, 1530 Monmouth St., Independence.
Cast members include:
Hannah Riddell as Ariel; Zacchaeus Avila as Prince Eric; JaNay Jeffries as Ursula; and Leif Olsen as Sebastian.
Admission:
Tickets are $8 for adults and $5 for students. Children dressed as their favorite character will receive a discount. Tickets can be purchased at the door or by calling 503-838-0480.