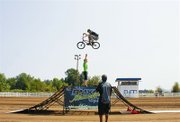 RICKREALL -- The 2013 Polk County Fair may feature more tigers, BMX bikes and dogs navigating obstacle courses.
In a year where attendance was down about 4 percent, the Walk on the Wild Side, BMX bike show, and dog agility demonstrations were the big draws during the 2012 fair, held Aug. 9-12.
Fair Manager Tina Andersen would like to expand those events -- and the surprisingly popular 4-H "shooting tent," featuring archery and rifles -- for the 2013 fair.
That will take some careful planning and shuffling on the increasingly cramped fairgrounds.
"I think we are going to have some changes because those were some really great events," Andersen said.
Overall, the fair had 495 fewer people attend the four-day event than in 2011, with the attendance totaling 11,044. Andersen said there were two main factors in the decline: an uncomfortably hot Sunday and the absence of the youth rodeo and its 300 participants.
Admissions declined about 9 percent, but food and carnival revenue were up 1 and 7.5 percent, respectively. The 4-H/FFA livestock auction also had a big year, increasing sales by 11 percent.
"I don't consider it a bad return," Andersen said. "It was down a little bit, but when you consider the economy, to be only down 495 people, we can live with that. But we will get them brought back in."
Andersen is already planning to prominently feature the events that drew the biggest crowds.
The BMX exhibition has been booked for 2013 and may include more shows. "Walk on the Wild Side," a last-minute replacement for another exhibit at this year's fair, may return in 2013 with a bigger display with more animals.
"I've asked him (Walk on the Wild Side co-owner Steve Higgs) to check his schedule," Andersen said. "He has a huge display, but because I was so late, we got a smaller display."
The 4-H dog and shooting clubs likely will be given more room to set up their exhibits, as well.
Andersen is already thinking about layout for the 2013 fair, which to her illustrates the need for a fair expansion.
The Polk County Fair Association is already in the process of raising money to purchase more land, to be used for parking in the short term. The fair board also unveiled its future expansion plans this summer, which so far have received a fairly positive response.
"There were a few people who were concerned that we were going to go big and take our little county fair and go commercial," Andersen said. "That isn't going to happen. It's really about not having enough room for everything we are trying to do."