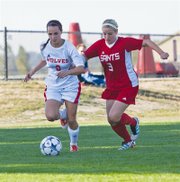 MONMOUTH -- Marina Austin laughed a little as he said it.
"We're the hottest team in the GNAC right now," Western Oregon University women's soccer coach Steve Ancheta said to his squad shortly after the Wolves beat yet another conference foe, Saint Martin's, 2-0 Thursday at home.
Austin & Co. might have chuckled a bit at the comment, but after Saturday's huge upset over then-Great Northwest Athletic Conference leader Montana State Billings, there's no denying its truth.
The Wolves (6-5-1, 4-3-1 GNAC) have won three in a row after Saturday's 1-0 double-overtime victory on the road over the Yellowjackets (10-2-0, 6-2-0).
WOU senior Lindsey Bauman scored in her second consecutive game, netting the game-winner in the 109th minute to keep the Wolves in a pivotal fourth place in the team standings.
The top four teams at the end of the regular season will advance to the inaugural GNAC tournament, set to begin Nov. 1.
"We like to think so -- we're pushing through," Austin, who scored the opening goal in Thursday's win, said of her team's "hot" factor.
"As we grow, the more our season goes, the more we become a team and the better we play."
Austin and Bauman, two of the Wolves' key players up front, have been big reasons why for the recent success.
Bauman has had another strong season after earning the GNAC's Newcomer of the Year Award in 2011, netting a team-high four goals to go along with two assists.
Austin (three goals), on the other hand, has picked up her play as of late -- starting with a key cross that set up a huge 1-1 tie with GNAC perennial contender Seattle Pacific (8-2-2, 5-1-2) Sept. 27.
It was the first time WOU had scored a point versus the Falcons since 2002.
"That was a big one for us," Austin said. Her cross into the box set up an own goal by a SPU defender attempting to clear the ball.
Austin then went on to score in a 1-0 victory over Central Washington Sept. 29 and then netted her third goal Thursday in a win that avenged an earlier-season loss to SMU.
"She's stepped it up the last few games," Ancheta said of the senior forward.
"She was a little bit disappointed in her play the week before that and just wanted to make a difference. She's stuck with it and she's scored a couple of good goals for us."
Presenting even more problems to opponents has been WOU's depth up front. Nine players have scored goals this season, with JoEllen DeLeon, Kymberly Witmer, Nikki McCall and Maya Palaroan each tallying two.
"It shows that, overall, we're a really good team," Witmer, a senior midfielder from Newberg, said.
"Any of us can score and it's just different every game. It kind of helps when we play other teams and they see our stats and they're like, `Oh, we have to watch ALL of them.'"
WOU will have a tough task ahead of it in the next four games, as the Wolves finish a five-match road stand with Simon Fraser (Thursday), Western Washington (Saturday), Central Washington and Seattle Pacific on the slate.
The Wolves will wrap up the regular season with two games at home, against MSUB and Northwest Nazarene.
"Steve (Ancheta) tells us all the time that we've got to be road warriors," Austin said. "We're ready, we can do it and we've just got to come to play every game."
NEXT MATCHES
Western Oregon (6-5-1, 4-3-1) at
Simon Fraser (1-10-0, 0-8-0)
When:
Thursday, 7:30 p.m.
Where:
Burnaby, British Columbia.
Western Oregon at Western Washington (10-2-0, 7-1-0*)
When:
Saturday, 4 p.m.
Where:
Bellingham, Wash.
* -- as of Tuesday. WWU hosts Saint Martin's Thursday.