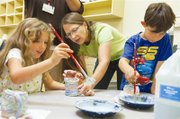 MONMOUTH -- As they painted their handmade vases, mugs and pencil holders, the children in Trisha Wilfong's second-grade class at Ash Creek Elementary School seemed skeptical.
The muted colors they were using sure didn't match what they might find in a crayon box. To satisfy their curiosity, Salem artist Karin Putnam explained that their paint was low-fire glaze and guaranteed that heating the work in a kiln would turn the colors vibrant.
"Oh. Cool!" the kids responded.
"I never made pottery before, it's fun," said Keone Andrew of Independence as he dabbed orange
on his mug. He motioned to the snail-shell designs adorning his piece: "I like the sculpting you can do."
Students at Ash Creek are being exposed to sculpture and ceramic art three times a week through October via their own artist-in-residence.
Putnam, a staff member of the
Photo by Pete Strong
Everett Davis, Emily Dorn and Annabella Willis, from right, finish painting their pottery Oct. 10 at Ash Creek.
nonprofit Willamette Art Center, was hired to teach here with $2,000 raised by school officials and parents. The result has been all 420 of ACES' students making their own glazed clay creations.
"The kids get very few art opportunities; it's kind of like music or PE now," Wilfong said. "But they love this, it's hands on and something they enjoy."
There hasn't been a dedicated art program at Ash Creek since 2002. Principal Barb Welander said teachers are free to individually try and incorporate art into their own lessons.
"But their training is in general education," Welander said. "And unless they already have those skills and that interest, it's difficult. It involves a lot of planning and extra materials."
Also, Ash Creek doesn't have a kiln -- it was left out of the design of the building a decade ago for cost savings.
That means the days of bringing home mugs as gifts for mom and dad are mostly nonexistent -- except this year, thanks to ACES Parent Club and school volunteers who run an annual "jog-a-thon" fundraiser that pays for supplementary programs and equipment at the school. Welander said she wanted to try a temporary, yet comprehensive art program.
"Art is a different way of expression, it's a visual and tactile way to learn," she said. "Our staff has been studying the ways it affects brain development and that's what caused us to think seriously about this."
Willamette Art Center was formed six years ago. Putnam, a former elementary school teacher, said the organization has done more contract art lessons in recent years because regular art instruction in schools has dried up.
"We poll families at the center about how often their young kids get art in school," Putnam said. "Sometimes they'll say their visit with us is the first experience.
"When I was young, we did clay and ceramics in first grade," she continued. "In a lot of districts now, kids aren't getting exposed to this until they're in fifth grade, or middle school or even high school."
Putnam said she's done residencies for classes at different schools in the Willamette Valley, though "normally we don't do an entire school like this."
"We feel like we're filling a gap that's becoming wider with schools cutting art," she said.
Students were given lessons on how to work with clay, the finer points of painting and how ceramic glaze, when heated to 1,800 degrees, gives artwork its glassy finish.
"This won't start on fire, will it?" Andrew asked.
Everett Davis, a second-grader, had never done pottery before.
"It's fun," he said. Of his small pot, he said: "I might give this to someone when it's done."