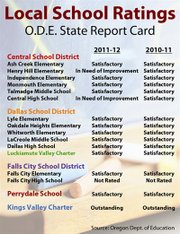 POLK COUNTY -- Almost all of Polk County's schools were labeled "satisfactory" on the 2011-12 state report cards. In Independence, meanwhile,
Henry Hill Elementary School and Central High School were both hit with the "in need of improvement" rating.
Oregon Department of Education released report cards for K-12 schools last week. The documents are an overview of student test performance, school improvement, attendance, graduation rates, SAT scores and other factors.
Despite the state receiving a waiver from the old No Child Left Behind standards, this year's report cards are essentially unchanged from the past. The only difference is the removal of the Adequate Yearly Progress (AYP) designations.
The report cards and methodology behind them will be redesigned this fall and winter.
"Our state is embracing a new model for education -- one that is better coordinated, more student-centered, and more focused on key outcomes," said Rob Saxton, state deputy superintendent of schools. "We need to have a report card that is aligned to, and supports, that vision."
Central High fell below the state benchmarks in math and reading, though by only 1 percentage point in each category.
Graduation rates at Central High were 65.4 percent, 2 percent less than the state average. Central's dropout rate for students for 2010-11 was somewhat startling -- 5.8 percent, 2.5 percent higher than the rest of Oregon.
"We certainly understand that we need to improve our graduation rate and work with our student subgroups," said Central Superintendent Buzz Brazeau, noting that the district rolled out in August an academic plan to help boost achievement.
Of the dropout rate -- more than 2 percent higher than Central's 2009-10 rate -- Brazeau said a factor could be accuracy in tracking enrollment at given schools. Some students who might have transferred out of the district could be incorrectly counted as dropouts, an issue other districts in Oregon have reported, he said.
"I don't want to minimize the data, because we know we have to do a better job," he said. But "at the high school, the numbers we're seeing aren't coinciding with what the state is saying."
Henry Hill sits on the state's "focus" school list because of achievement problems and its status as a high poverty school with underserved student demographics. The school is receiving assistance from the state to help boost student scores.
Of the 16 schools inside or serving the county's main communities, only Kings Valley Charter School earned an "outstanding" rating.
Statewide, there were more schools receiving "outstanding" ratings last year across the state than in 2010-11 -- 31 percent of all schools compared to 28 percent.
The number of "satisfactory" schools, meanwhile, fell by 6 percent, and schools "in need of improvement" rose by 2 percent.