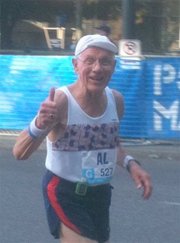 PORTLAND -- Al Opplinger, 80, of Monmouth, finished first in the 80-84 age group in the 26.2-mile Portland Marathon Oct. 7.
It was the second age-division win for Opplinger, who won the 75-79 age group in 2007.
Opplinger finished with a time of 6 hours, 45 minutes, in the race, his fourth Portland Marathon and eighth marathon overall.