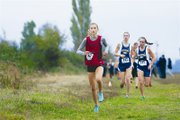 TURNER -- With 400 meters to go and in second place, Central sophomore Mandi Desmarteau thought, just maybe, that she could catch the race leader at the Oregon West Conference cross-country championships.
"I think right around here," Desmarteau said Saturday, pointing at the course at Cascade High School, "right as we got on the track, some guy said I was 10 seconds behind her, so I was like `maybe I can get her.'"
It didn't happen -- Cascade senior Kristen LaChapelle would win the district title -- but don't think that dampened Desmarteau's spirits.
"I feel really great -- I'm just excited that I achieved my goal."
That goal, capped by her second-place finish in 20 minutes, 14 seconds, was her ensuing trip to the Class 4A state championships, set for 11:15 a.m. Saturday at Lane Community College in Eugene.
Desmarteau is the only one that will compete in the state meet for Central, which did not qualify as a team. The girls squad finished fifth (93 points) in the team standings, topped by winner Stayton (54 points) and second-place Cascade (56 points).
Philomath (27 points) won the boys race and Newport (58 points) was second to qualify for the state meet.
Photo by Nicole Watkins
Central's J.D. Protiva, right, was the top finisher for the Wolves in Saturday's Oregon West Conference championships.
Newport's Deklyn Wood was the boys district champion, finishing in 16:29. Central's top finisher was J.D. Protiva, who placed 24th with a time of 18:56.
Despite heading into the OWC district meet with the third-best time, Saturday's top-five finish for Desmarteau was not a given. She's spent the last several weeks recovering from time off to heal a hip injury.
So far, Desmarteau has recovered any lost ground.
"I think at the beginning of the season I felt really strong and I felt like I could do really well this season. Then, sitting out, I was kind of worried that I'd lose all the training I did over the summer," she said.
"But I think I'm OK because I bounced back pretty well, so I think taking the time off really helped."
Central coach Brad Simkins was bursting with pride after Desmarteau's finish.
"I'm very impressed with her performance," he said. "It looked like she had a chance to reel that girl in, but you know what, I'm so proud of her -- no matter what (place), first, second, third, fourth -- anywhere in there, it would have been great.
"She's got the rest of her career ahead of her, and in my opinion she looks like one of the best runners out there. ... If we can keep her injury-free, she's just so dedicated to the sport in all aspects, I know she's going to just keep doing bigger and better things."
Rounding out the top three girls finishers for Central were Keighlee Riggan (15th, 22:02) and Jamie Smith (16th, 22:03). For the boys, Alex Anderson (19:03) placed 25th and Alex Mack was 26th (19:07). All set personal records for the season in Saturday's race. In all, 18 of Central's runners set personal bests.
CLASS 4A CROSS-COUNTRY STATE CHAMPIONSHIPS
When:
Saturday. Girls varsity race begins at 11:15 a.m., boys race starts at 11:50 a.m.
Where:
Lane Community College, Eugene.
Admission:
$8 adults, $5 students. Admission is good for all races; gates open at 8 a.m.
For full schedule and more information:
www.osaa.org/crosscountry/