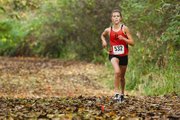 CLASS 5A XC STATE CHAMPIONSHIPS
When:
Saturday. Girls race begins at 1:15 p.m., boys race starts at 1:50 p.m.
Where:
Lane Community College, Eugene.
Admission:
$8 adults, $5 students. Gates open at 8 a.m.
Area qualifier:
Mary Kate McGuire, sr., Dallas.
WOODBURN -- By the time the smoke had cleared from the shot of the starters gun, Mary Kate McGuire had already built a sizable lead.
She was so far ahead in the Mid-Willamette Conference cross-country championships Oct. 24 that some people didn't even realize the Dallas senior was part of the race.
"Yeah, I was like `race!' and they still didn't hear me," McGuire said of the moment when a few bystanders nearly got in her way on the course at Willamette Mission Bottom Park.
"So I was like `OK, I'll just go around them.'"
That hiccup didn't come close to affecting the finish, as McGuire -- 36 seconds ahead of the second-place runner -- stormed her way to her first district title.
Corvallis won the girls district team title with 27 points and Crescent Valley (73 points) was second, as both qualified full squads for Saturday's Class 5A state championships at Lane Community College. The Dallas girls (82 points) were just edged out of a chance at their first state team appearance, placing third.
McGuire finished with a time of 18 minutes, 19 seconds -- 13 seconds off her season best -- to win the first district title by a female cross-country runner in Dallas High history.
At least that's what Dallas coach Monique Lankheet, who has headed the Dragons' cross-country squad for the past 17 years, could deduce.
"We haven't had one since I've been coaching, and the times I found from the kids that have competed at state didn't seem like times that could win a district title," Lankheet said.
"She's the first one."
It was a title that McGuire, who finished fourth at MWC's a year ago, had as a major goal before the start of the season.
But then again, that was after a junior year when her best time was 18:58 and she finished 16th (19:40) at the 5A state championships.
You can imagine how her goals might have evolved into something much greater.
"It felt good -- it feels good to finally get that district championship," McGuire said, quickly noting her opinion on winning by such a big margin.
"I hate these types of races. I would so much rather have girls that are faster than me just because I can get that PR, but it feels good to win, too."
Her eyes, of course, are now focused on Saturday's state meet.
McGuire is ranked second overall in season-best times with an 18:06, just behind Hermiston's Maggie Coleman, who has ran a 18:03. Hood River Valley's Grace Grim is ranked third at 18:09.
"She's just so strong," Lankheet said. "It's hard to run by yourself, but she ran really well, ran confident, ran strong. She's done the work."
Both know that the state meet won't be such a runaway.
"I think she's going to have to compete when we go to state, so I think that will be maybe more fun of a race for her because she'll actually have to fight for a position," Lankheet said.
Added McGuire: "State champ is what I'm going for. We'll see."
Bethany Steele (12th, 20:47) was the next Dallas finisher and Carleen Fall (15th, 20:58) rounded out the Dragons' top three at district.
Senior transfer Marquez Ensey placed 16th (17:20) to lead the Dallas boys to a seventh-place team finish in the Mid-Willamette Conference championships.
Corvallis' MacLean Panshin (16:35) was the top finisher to lead the Spartans (27 points) to a first-place team finish, while Crescent Valley placed second (52 points).
Ensey, who moved to Dallas this year with his family after a year and a half living in Heidelberg, Germany, said the Dragons taught him how to be the ultimate teammate.
"I think at Heidelberg, it was more `win, win, win,' and here it's more of a family aspect and a team," Ensey said. "Here at Dallas, it's a small school and everyone's just tightly bonded."
Thain Irwin (24th, 17:35) was the next Dallas placer and Michael Osborn (38th, 18:21) rounded out the Dragons' top three runners.
RACE FOR THE TITLE
Here are the top five season-best times among Class 5A females entering Saturday's state championships. The date in parentheses marks when the time was recorded for each runner.
18:03.9:
Maggie Coleman, sr., Hermiston (Oct. 13)
18:06.9:
Mary Kate McGuire, sr., Dallas (Oct. 13)
18:09.7:
Grace Grim, jr., Hood River Valley (Oct. 13)
18:24.8:
Piper McDonald, soph., Summit, (Oct. 13)
18:47.5:
Taryn Rawlings, jr., Wilsonville (Oct. 24)