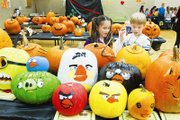 DALLAS -- Third-graders Kieran King and Jevin Kessel have their spider legs on.
The Oakdale Heights Elementary School students are waiting for Kelleigh Ratzlaff to give them the signal to race on all fours -- they have four more "spider legs" attached to a belt around their waists -- down a dark tunnel made of black plastic sheeting.
"Go!" Ratzlaff said.
The boys scurry down the tunnel and turn around to scamper back, ending with a dive for the finish line.
It's too close to call.
"That was awesome!" proclaimed Ratzlaff, an Oakdale volunteer. "You guys both earned your spider legs."
Kieran takes his prize -- a small plastic, eh, spider -- and heads over to check out the pumpkin bowling.
Kieran had a long list of games he had already played, but he wasn't through.
His favorite?
"The spider race -- I always like that," he said.
Spider legs? Pumpkin bowling?
It must be harvest carnival time.
Oakdale Heights Elementary School, where the spider leg races were going on, and Lyle Elementary School, with its lively pumpkin carving contest, both celebrated the fall season Friday with harvest and Halloween-themed activities.
Both events had carnival games, treats, art projects, not-too-spooky music, and face painting.
Photo by Pete Strong
Kaitlyn Van Well, left, and Avery McFarland put the hats on their "scarecrows" Friday at Lyle Elementary School's harvest carnival Friday in Dallas.
At Lyle, a group of second-graders filed through a "haunted" passageway and into the gym, where their faces lit up at the sight of table after table of creatively carved and painted pumpkins.
Displayed on the table were pumpkins glued together in the shape of a tank, pumpkins with scary faces, a pumpkin eating another pumpkin, pumpkins painted to look like Angry Birds characters and even a "Despicable Me" Minion.
Teachers could hardly contain their students' excitement long enough to get a class photo before they scattered to play games.
Cadie Kumnick, a second-grader, made her way over to a table where students created "glow-in-the-dark" goo -- a mixture of glue, a polymer and water.
"Look, it glows when you get close to the light," Cadie said, holding her bag of the substance under a black light.
Next she was off to the face-painting booth. She wanted to be a tiger.
Haley Conner, a Dallas High School student and carnival volunteer, was one of the face-painting artists. She said the youngsters were pretty excited.
"They seem to enjoy it," she said. "They requested a lot of camouflage."
Third-grader Angelo Heyano was one of the many boys disguised in camouflage Friday. With some cool face paint and a bag full of prizes, Angelo made his way across the gym to walk with his class to go back to their room.
"It was fun!" he exclaimed, hurrying to get in line.