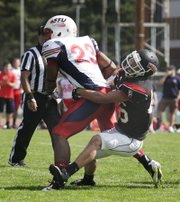 MONMOUTH -- With starter Cody VonAppen still out with a shoulder injury, the Western Oregon University offense stumbled in a 19-3 loss to Azusa Pacific Saturday at McArthur Stadium.
The Wolves (5-4, 5-3 Great Northwest Athletic Conference) managed just 210 yards of offense and didn't reach the end zone, scoring only on Kelly Morgan's 37-yard field goal on the final play of the first quarter.
Backup quarterbacks Trey Shimabukuro and Ryan Bergman traded time under center, each with limited success.
The sophomore Shimabukuro finished the game 6 of 14 for 47 yards and an interception and Bergman, a redshirt freshman, threw for 58 yards on 6-of-21 passing with two picks.
The Wolves' defense held Azusa Pacific (2-7, 2-6 GNAC) to just 248 total yards of offense and 12 first downs, but gave up APU's lone touchdown of the game, a Terrell Watson 4-yard run, with 11 seconds left in the contest.
Kenneth Haynes added 60 yards rushing for WOU, which travels to face the GNAC's second-place team, Central Washington, Saturday.
WOU hopes to avenge a 21-14 overtime loss to the Wildcats (5-4, 5-3) in Monmouth in the two teams' first meeting on Sept. 15.
VonAppen's return for that game is unlikely, according to WOU head coach Arne Ferguson.
NEXT GAME
Western Oregon (5-4, 5-3) at Central Washington (5-4, 5-3)
When:
Saturday, 1 p.m.
Where:
Ellensburg, Wash.
Preview:
The Wildcats are coming off a tough 14-10 loss at Humboldt State that propelled HSU into first place in the GNAC standings and dropped CWU into a tie with WOU. Last time the Wolves and CWU met on Sept. 15, the Wildcats came from behind to win in Monmouth, 21-14 in overtime. Johri Fogerson (115 yards per game) and Demetrius Sumler (114 yards per game) lead the CWU running attack, while quarterback Ryan Robertson is averaging 188 yards per game in the air. The Wolves' need a win here to stay in the GNAC title hunt, with league-leader Humboldt State on the slate Nov. 10 to wrap up the regular season.