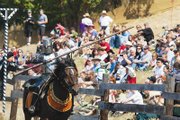 KINGS VALLEY -- Need to brush up on your medieval English history?
The Shrewsbury Renaissance Faire, which takes place in Kings Valley Saturday and Sunday, offers a chance to experience what life would have been like in England circa 1558-1603.
The faire replicates a medieval village, complete with historically appropriate vendors -- leather workers, clothing sellers, blacksmiths, plenty of food booths and even a tavern. Actors in full costume play villagers to create an authentic experience, and you may even see knights courageously clash on a tournament field.
Visitors can join the fun and attend in costume, though dressing up is not a requirement.
Recent attendees will notice one big change for the popular and award-winning faire this year.
"We've been working since we moved to the current location to use some of the forested area on the site," said Adrian Hughes, the festival's proprietor. "Most of the faire is out in a farmer's field. The forested site is across a stream (next to the field), but we could never manage to get across the river. It's taken us nine years."
This summer, the faire has been able to remove some trees and prepare the site to expand the festival footprint about 30 percent, which will include plenty of cool shade.
"It's very exciting for us," Hughes said. "When we are dressed for properly wet and dreary English weather, Oregon's late summer can roast us."
That was especially true last year, when the festival fell on two of the warmest days of the summer.
"That was the hottest Shrewsbury ever," Hughes said. "It was awful."
Undoubtedly, that was a major reason attendance -- which normally exceeds 15,000 -- was down in 2011.
This year, Hughes is hoping the weather will be more favorable.
"As much as I can trust the weather, it does seem to be cooling off," he said, adding at the very least, the recent cooler temperatures have allowed for a seamless setup this week.
Festival setup crews have started building permanent structures in the trees, including a performance stage that will be used this weekend. Hughes said the festival has a 20-year lease on the property and will be able to add more permanent structures in the future.
With more space, Shrewsbury has been able to invite more vendors and create a new "fairy area" for the little ones.
Those a little bit older, but still young at heart, will enjoy the festival's traditional jousting tournament.
New to Shrewsbury last year, Cavallo Equestrian Arts of Florida will return to provide the horseback entertainment. In 2011, Cavallo held two very different performances: a jousting tournament and a horseback acrobatics show featuring high-flying tricks.
Hughes said he was able catch a portion of the trick riding show last year and was impressed.
Unfortunately, Cavallo isn't sure if enough acrobatic performers will be available to make the trip this year.
"They don't know if they will be able to do the trick riding show," Hughes said. "I would love it if they do, but we'll take it as it comes."
Fun From Another Era
What
: Shrewsbury Renaissance Faire.
When
: Saturday and Sunday, Sept. 8-9, 10 a.m. to 6 p.m. both days.
Where
: Between Dallas and Philomath near Kings Valley at the intersection of Highway 223 and Grant Road at the Polk-Benton county line.
Admission
: Adults, $11; seniors and children 6 to 12 years old, $5; children 5-years-old and younger, free. A coupon for $1 off admission is available on the Shrewsbury website.
Parking
: Free.
For more information
: 541-929-4897; www.shrewfaire.com.