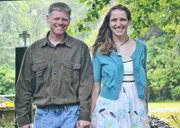 Bath-Smith
Julianna Rose Bath of Bonanza and Daniel D. Smith of Perrydale are planning an October wedding.
The bride-to-be is the daughter of Randy and Jeani Bath of Bonanza. Her fiance is the son of Daniel W. Smith of Dallas and the late Valetta Smith.
Julianna, a graduate of Bonanza High School, received her associate degree in 2012 from Chemeketa Community College in Salem. She currently works on her family's farm.
Dan, a graduate of Salem Academy Christian High School, received his Bachelor of Science degree in economics in 1995 from the University of Oregon. He is a self-employed farmer in Perrydale.
The wedding is set for Saturday, Oct. 13, at Bonanza Community Church in Bonanza.
More like this story