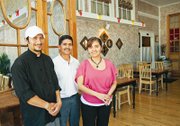 INDEPENDENCE -- Humberto Roque, a longtime Italian restaurant cook, said he's been dreaming of opening a place of his own during the last three years.
It was while he was driving to his restaurant job in Salem one day in late May that he saw his opportunity in the form of a "for lease" sign posted in the window of 114 S. Main St., the former Bizznaga 303 Grill.
"We sat and talked about it," said Liz De La Torre, Roque's wife. "We thought it would be a good chance to start a family business.
"The old exterior, he thought, would be the perfect place for a restaurant."
For Roque, De La Torre and her father, Manuel, it was. The trio opened Mangiare Italian Restaurant in early July and have been gaining a steady following since.
The menu features a wide assortment of Italian staples such as lasagna, chicken cacciatore and misto mare -- the latter, a medley of sauteed shrimp, scallops and white fish. Appetizers, pizzas, sandwiches and desserts round out the menu.
By the end of the month, Mangiare will also begin offering beer and local wines.
Roque and Manuel De La Torre co-own the establishment. Roque is the executive chef while Liz De La Torre manages.
Roque, 29, has worked in restaurants for more than half of his life. He got his start as a dishwasher as a teenager at Ernesto's Italian Restaurant in Bend and quickly moved up the ranks to become a cook.
He's also been a cook at Pastini Pastaria in Corvallis and spent the two years prior to Mangiare in the kitchen of Gamberetti's in Salem.
Professionally, he's always cooked Italian cuisine.
"It has class and style," Roque said.
Roque strives to cook everything fresh and on the spot. Ingredients, whenever possible, come from area farmers markets or local sources -- Mangiare's bread comes from nearby Ovenbird Bakery.
Liz, a former Gamberetti's server and bartender, said there's excitement about opening a restaurant in her hometown -- she's been an Independence resident most of her life.
Her father, meanwhile, just recently ended a 20-year career at Firesteed Wines in Rickreall.
"We live here and we knew there wasn't another Italian restaurant here," Liz said. "We know several restaurants have been in this (location) that have closed and we wanted to take on that challenge and be successful."
"We've had people say they were happy we're here and that they hope we're around for a long time," she said.
Check It Out
What:
Mangiare Italian Restaurant.
Where:
114 S. Main St., Independence.
Hours:
Monday through Thursday, 11 a.m. to 9 p.m.; Friday and Saturday, 11 a.m. to 10 p.m.; Sunday, 3 to 9 p.m.
Of note:
Take out is available.
For more information:
503-838-0566 or visit Mangiare's Facebook page.