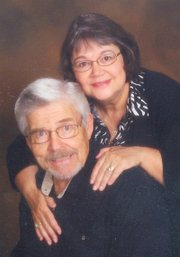 Schmoyer -- 40th
Ron and Glenda Schmoyer of Dallas celebrated their 40th wedding anniversary on Aug. 26 with a celebration attended by family and friends at L'Attitude Restaurant in Dallas.
Ron Schmoyer and Glenda Handy were married Aug. 26, 1972, at Gresham Nazarene Church in Gresham.
The couple have lived in Dallas since 2001.
Ron retired in 1980 as a firefighter for District 10 in Multnomah County. Glenda retired in 2007 after spending 25 years as an accountant and licensed tax consult.
Ron enjoys woodworking, restoring antiques and restoring his 1964 Ranchero. Glenda enjoys quilting, sewing, crafts and spending time with her grandchildren. The couple also enjoys traveling, antique hunting, photographing old houses and churches, and family get-togethers.
Their family includes Daniel of Dallas, Rhonda (Tim) Dykes of Orlando, Fla., Julie of Aumsville, Victoria Berg of Dallas, Wendy (Bob) Betthauser of Boring, Christopher (Lori) of Bend and Jay (Gretchen) of Dallas. The couple have 13 grandchildren and two great-grandchildren.
More like this story