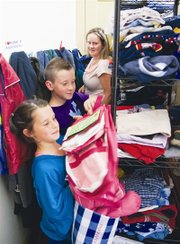 POLK COUNTY -- There are easily a few hundred articles of clothing on shelves in the northeast corner of the library at Independence Elementary School, from Captain America T-shirts and cargo shorts to girls' blouses and flip flops -- all categorized by size.
Fleece jackets, windbreakers and down-filled coats hang on pegs along walls nearby. And there are still bags left to be unpacked.
Abby Darby and her three children, students here, log time every couple of weeks sorting and tallying items.
"We need little boys and girls pants, socks, underwear," Darby said. "It's surprising how expensive those things are and they only come four or five to a pack."
Every elementary school has its own version of "the clothes closet" -- that all-important stash of replacement garments that gets used when there's spilt milk, muddy playground mishaps or other accidents throughout the day.
Darby and other members of IES's Parent Club have expanded upon that concept by creating what's essentially a clothing bank.
Through donations, the group has amassed and continuously stocks a large quantity of clothes to give out to school families seeking assistance or to those kids teachers identify as needy in class.
Norma Orozco, an IES office worker who helps out with the program, said students will wear the same clothing several days in a row or show up during the winter months without a coat -- red flags.
"We'll pull whatever clothes are needed from the racks and put it in their backpack with just a simple note that says `to keep,'" she said.
Orozco said there were probably a dozen cases of families getting assistance through the clothing bank last year. Darby said she knows of four or five who've been helped thus far this year.
Central School District is considered a high-need population based on federal standards, with more than 60 percent of its students on free or reduced lunch.
IES and Henry Hill Elementary School to the south have larger percentages of low-income students compared to most other local schools, said Pam Erland, a Polk County mental health counselor assigned to both buildings.
Service integration teams -- county-organized groups of community partners within area school districts -- can usually cobble together funds for family assistance when needed, for more specific items such as shoes or backpacks, Erland said.
"I don't think every child is in need," she said. "But I think that need has grown," she said.
Darby said she and others last winter thought there was an opportunity to turn the clothing-closet concept into something more proactive, by encouraging families to donate clothes their kids outgrow.
She got a boost from friend Jenny Brown, who owns the Second Time Around consignment shop on Monmouth Street.
Brown said clothes that go unsold are donated to charitable nonprofits in Salem and that
she wanted to find a local recipient. During the spring, the store donated four boxes of items a month to the cause.
"I think it's a good thing, there are a lot of parents out there who can't afford to buy clothes for their kids, even used clothes," Brown said.
Darby said families at IES have been good at passing along hand-me-downs to the project. Students who donate their clothes like seeing others wear them.
And "it's really cool to see how good it makes a kid (recipient) feel," Darby said. "They used to come to school and had a couple of outfits and now they have one for every day."
You Can Help
* Independence Elementary School's clothing bank is accepting donations of used clothing. Shirts, pants, coats, pajamas and shoes will all be accepted, as long as they're clean and wearable. A drop site is located near IES's front office. For more information: 503-838-1322.