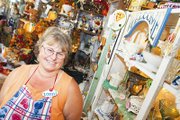 MONMOUTH -- Tonni Walbridge recalls making a dress as a junior high school student back in the 1970s that earned her an "A" in her home economics class. Walbridge's mom, Shar Downs, took the garment apart and made her redo the whole thing.
"The sleeves were frayed, the casing wasn't put in correctly and the elastic was too tight," Walbridge admitted.
Still, if not for her mom's correction, she wouldn't have stuck with sewing -- or developed her more than 30-year passion for things handmade or repurposed.
Walbridge ran a family craft business many years ago and recently opened the doors of a gift shop, This `N That By Us, this summer off Highway 99W. The store features collectibles and handmade crafts, such as dolls, paper crafts, beadwork, jewelry, sachets and wands made of lavender and exfoliating scrubs.
All of the items are made, repurposed or discovered secondhand by Walbridge, Downs and friends. Silverware has been transformed into easels for paper and cards, jewelry boxes assembled together as small shelves.
"I like that, that you can use an item for something other than what it was made for," Walbridge added. "Nothing in here is new."
Walbridge, a native of San Jose, Calif., has been in retail for decades, including a stint as a Target manager. She's lived in Monmouth since 1988.
Though Walbridge and Downs have tried the craft fair circuit in the past -- "we got kind of disillusioned with it" -- Walbridge yearned to open a gift shop of her own after running a family business in Corvallis until the late 1990s.
Last year, she and her husband purchased the building that This `N That sits in. Instead of going the consignment route, she decided to carry items strictly created by friends.
"That's where the `by us' comes from," Downs said.
The storefront used to be an insurance office and has been overhauled with old furniture and fixtures and decorated with women in mind, Walbridge said. Ironically, it's attached to an auto repair shop.
"Women can come get their cars taken care of, and then visit us while they wait," she said.
Check It Out
* This `N That By Us is located at 291 S. Pacific Highway, Monmouth. For more information: 503-559-4179 or look for the business' page on Facebook.
More like this story