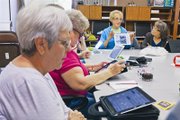 MONMOUTH -- The Monmouth Senior Center held a workshop exploring how to fully utilize an iPad on Monday and a Spanish conversation class later that afternoon.
There's a hiking trip for members scheduled on Thursday at Beazell Memorial Forest in Kings Valley. On October 4, center members will have an opportunity to learn how to make their own butter, cheese and yogurt.
Marie Kristiansen said she's hopeful after the end of the year, she can get back to regularly enjoying these activities again.
Kristiansen and other members of the Friends of Monmouth Senior Center have had their noses to the grindstone since November 2011, spearheading a major fundraising push to help renovate and expand the existing facility off Clay Street.
"We've been so busy, I haven't really had time to enjoy the place yet," Kristiansen said.
Last fall, the Friends set a goal of raising $50,000 to match the money already sitting in its project reserve fund -- about $62,000 squirreled away over seven years through pie sales, raffles and breakfasts.
At last count, the pledge drive has yielded almost $42,000, Kristiansen said.
"Normally, we might have about 10 fundraisers a year," Kristiansen said. "Since last November, we've had 32 and we have 15 more before the year is out."
This included a project taken on by students in an event planning class at Western Oregon University in May at Eola Hills Wine Cellars that raised close to $8,500; the minimum goal had been $3,000.
"I think this just shows how important the senior center is to this community," Kristiansen said.
Sue Teal, senior center director, said patronage to the facility has grown steadily and heavily during the last several years. Teal said she's expecting 15,000 visits in 2012.
The center has undergone minor renovations three times since it was built in 1987. This sought-after expansion would increase its size by more than 2,500 square feet.
It would also add bathrooms, classrooms, storage and other space. The kitchen would be upgraded to attain a commercial designation. Total cost is about $800,000.
Kristiansen noted psychology faculty at Western want to expand senior presentation offerings the department has hosted at the center and that as things are now, "we just don't have the room to do everything needed."
The next major step in the center's expansion quest is grant writing. The Friends will pen 10 grants in the coming weeks, with awards potentially totaling $1 million.
Success there is crucial, as there has been a setback in the project with a previous agreement for in-kind labor worth $250,000 from the National Guard. Kristiansen said the Guard can no longer commit to it because of other obligations.
"We believe the grants will get this done for us," Kristiansen said. "The hope is by the summer of 2013, we can break ground."
Community members can help the Monmouth Senior Center in its grant writing process with letters of support stating why they believe the facility is important. For more information, contact Monmouth City Councilor Cec Koontz at councilorkoontz@gmail.com.
For more information on the Monmouth Senior Center: 503-838-5678.
Upcoming fundraisers:
*The Friends of the Monmouth Senior Center will host a fundraising breakfast from 8:30 to 10:30 a.m. on Oct. 6. Cost is $6. The meal includes pancakes, scrambled eggs, sausage, biscuits and gravy, orange juice and coffee and is all you can eat.
* A crafting material supply swap meet for hobbyists and crafters will take place at the center from 10 a.m. to 3 p.m. on Oct. 20.