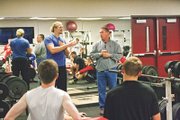 INDEPENDENCE -- Wide-eyed without even trying to hide their stares, current Central High athletes couldn't help but watch what a former Panther -- and NFL Super Bowl champion -- was doing right before them, in their weight room, on their turf.
"Like jaw-dropping," Central junior Ben Finnegan, who started at quarterback for the Panthers football squad in the fall, said of Jeff Charleston's typical weight workout, which he shared with around 30 CHS athletes March 27 during a spring break training session.
"I mean, he's benching 295 and I'm barely getting one plate, so it's pretty cool to see the difference between high school and the NFL.
"You almost have to stare, it's just so much weight compared to everybody else," Finnegan added with a smile.
But Charleston, the 6-foot-4, 265-pound defensive end -- currently an NFL free agent -- wasn't there to show off. Charleston -- along with Grant Hedrick, former Central High quarterback and current backup QB at Boise State -- were in attendance to give the group an idea of what is really possible, even out of a small high school in Independence.
If you put your mind to it, of course.
"I shouldn't have even made it to the NFL," Charleston told the group before the session started.
"I got cut my first year -- but I didn't give up."
The 2001 Central grad took the long way to football's biggest stage, starring first in three seasons at Western Oregon University before transferring to Idaho State to play his senior year.
Undrafted in 2006, Charleston was signed by the Houston Texans but cut before the season started. He didn't taste his first game action until the following year, when Indianapolis signed him and he played in 13 contests. Charleston spent the next four seasons with the New Orleans Saints, mostly as a backup, including their 2010 Super Bowl XLIV championship run.
He sustained a season-ending injury during a Saints playoff game in 2011 when he "blew out his arm," he said, including his tricep and elbow, sending him on a six-month recovery.
Charleston was picked up by Minnesota in July but released during final roster cuts in September until Tampa Bay signed him in October.
At age 30, he's again a free agent. But he'll tell you he's not finished -- at least not yet.
Grant Hedrick
"I definitely won't be done," he said in between conversations with Central players and coaches. "A team will call, I'll definitely have another chance. The worst thing that could happen is if I did hang it up and a team did call, I would have that regret of `Well, if I would have kept training, I would have made that team' -- so I can't quit on it."
At the start of the session, Charleston made a comment that resonated not only with Central's rising stars, but also to a former Panther still trying to break into his own in the college ranks: Hedrick.
"Something that you've got to have eating at you every day is that someone is out there working harder than you," Charleston boomed to the group.
You can believe that everyone in the room listened.
"Jeff, I think he hit it perfect when he said that's what has to keep your fire going," said Hedrick, a 2010 Central grad.
The redshirt sophomore has spent the past two years battling for the starting role under center for the Broncos, losing the job to junior Joe Southwick in 2012. He saw action as a backup in eight games last season, completing 12-of-17 passes for 116 yards and rushing eight times for 32 yards and three TDs.
He'll tell you of course, he wants more. But he's also learned how to be patient. The work he puts in to get better, though, never changes.
"It's just instilled in you that you've kind of got that blue-collar attitude and you're always trying to work as hard as you can," he said. "I think that's something we take pride in at Central High and something that when you come back, you still see it."
Charleston and Hedrick, both levelheaded and thankful for their current opportunities, also were adamant that success doesn't have to come in the form of a college football scholarship or a million-dollar NFL contract.
Charleston, a biology major in college who left a few credits short of his degree, is already taking prerequisite courses at University of Western States, a chiropractic school in northeast Portland, to prepare for the next chapter in his life.
Football, for both men, isn't everything.
"There's a lot of talent in this school and all these kids can do something with their life, and it doesn't have to be playing college sports," Hedrick said. "It's doing whatever they want -- they just have to know they have the capability to do it."
Charleston, who plans to return to the area for Central's inaugural Athletic Hall of Fame ceremony in May, echoed that sentiment.
"I don't take (my success for granted). Because I'm from here, I try to inspire people -- a kid might go pro, they might go pro in something else, but as long as they work hard, it doesn't matter what they do, as long as they realize that it's possible.
--
Nicole Watkins is the sports editor at the Itemizer-Observer. She can be reached at nwatkins@polkio.com or 503-623-2373. Follow her on Twitter @NicoleWatkinsIO.