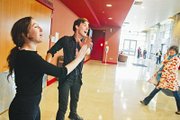 SALEM -- There were no lights, no sets and no chorus -- just background music and judges in a still room.
The environment during the competitive performance portion of last week's Oregon Thespians State Festival "Legally State" in Salem was intimidating, but Dallas High School's competitors were ready.
Juniors Benji Burgess and Hannah Fawcett were up first Thursday. They were literally jumping up and down before they were slated to sing the duo "You're the Top" from Cole Porter's "Anything Goes."
"I'm more excited (than nervous)," Burgess explained. "I can't wait. We've been practicing our butts off, so I think it will show."
It did.
The pair scored in the top two in their category and were invited to perform the song in Saturday's showcase, an honor DHS theater teacher Blair Cromwell equates to winning a state championship in sports.
The showcase-worthy performance was the beginning of a successful run for Dallas at state. All five of DHS's entries -- three in performance acts and two in technical events -- would earn International Thespian Festival qualifying marks.
Kenya Tichenor, a senior, had to recover from an unexpected mishap before her stage management presentation. Just minutes before she was to present, she realized she hadn't checked in.
Kenya Tichenor
Tichenor made a mad dash downstairs to check in and back upstairs to present. She said she was a little frazzled, but may have made up for it in thorough preparation of her stage management notebook for Dallas' production of "Anything Goes."
"I decided last year at state that I was going to compete, so when I started that musical I did it with the intent to take it to state," she said. "I made sure I had everything and that it was neat and orderly."
Tichenor's scores earned her second place in her first competition.
The success would continue with Marissa Anderson's costume design presentation for "Peter Pan;" Fawcett's solo musical piece, "Vanilla Ice Cream" from the musical "She Loves Me;" and Rachel Tilgner and Fawcett's duo dramatic acting piece with a scene from "A Young Lady of Property" by Horton Foote.
Rachel Tilgner
Anderson said the conference -- her first -- was a great learning experience.
She presented five costume renderings for "Peter Pan" and a notebook explaining her designs to judges Thursday. Afterward, the judges peppered her with questions, one of which hadn't occurred to her: How would she make a costume for the dog in the play?
Marissa Anderson
"I had no idea and I just kind of had to wing it with confidence," Anderson said, smiling. "They do ask questions that throw you off guard. You kind of have to be ready for anything."