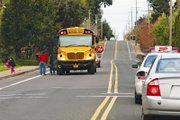 INDEPENDENCE -- Think you don't have to stop for a school bus flashing its red lights on the opposite side of a road with a center turn lane?
Think again.
Independence and Monmouth police departments and Central School District's Transportation Department are spreading the word about driver responsibilities after a few close calls this year where children could have been hurt boarding or exiting a school bus.
"We've had a situation where the driver has had to close the door in the children's faces because cars have decided to pass on the left," said Patti Green, Central's transportation supervisor. "In another incident a driver had to honk the horn after children had gotten off the bus because cars weren't stopping."
Independence police officers have been monitoring bus routes in recent weeks, giving out warnings to drivers who violate the law. Sgt. Rick Igou said it seems many drivers simply aren't aware of what they are supposed to do.
In most cases, the confusion isn't with the cars following buses, but those driving in the opposite direction, especially on roads with a center turn lane.
The law requires drivers following or driving in the opposite direction to stop when a bus' red lights flash, unless there is a median barrier a car driving in the opposite direction cannot cross. Turn lanes don't count. Cars following a bus are always required to stop.
"The cars are thinking that they don't need to stop when in fact they do need to stop," Igou said, noting that areas with frequent issues include Highways 51 and 99W and Monmouth Street in Independence.
Green cited Gun Club Road and Stadium Drive as other problem locations.
Igou said recently one driver heading in the opposite direction on a road with a center turn lane did the right thing, stopping for a bus, but then second-guessed and drove off before the lights stopped flashing.
Igou said that leads other drivers witnessing the incident to follow suit.
"They are self-teaching themselves misconceptions of the law," he said.
Green said there is another troubling trend are cars that speed up to pass a bus when its yellow lights are flashing. Those lights are used to warn drivers that the bus will be slowing down and stopping.
"People seem to think a yellow flashing light means go faster so they will miss the red light," Green said. "What it really means is that you need to slow down."
Green said bus drivers aren't powerless to stop red light violators. Oregon law allows bus drivers to record violators' license plates and car descriptions to provide to police. Usually that means the registered owner will receive a warning letter, but in the most egregious of cases bus drivers are allowed to issue citations. The fine for violations is $450.
Green added Central's crossing guards have also noticed some bad driver behavior in school zones, including one incident where a motorist ran over a three-foot cone used to block traffic temporarily.
"Can you imagine if that had been a child?" she said. "I think, in general, people need to be more cognizant of their surroundings in school zones or where a bus is present. If a bus is present, children are around somewhere."
Following the Law
* Drivers following a school bus flashing its red warning lights are required to stop until the lights stop flashing.
* Drivers heading in the opposite direction and in a different lane from a bus flashing its red lights are also required to stop, unless there is a median barrier vehicles cannot cross.