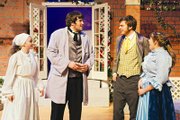 DALLAS -- Dallas High School's spring play packs a shipwreck, mistaken identity, sword fights and cross-dressing into one whirlwind performance.
Ah, Shakespeare.
And it wouldn't be Shakespeare if there wasn't a love story or two in the middle of all the swirling chaos.
Dallas High's production of "Twelfth Night," which runs Thursday through Saturday in Bollman Auditorium, doesn't disappoint on that account, but the love struck main characters -- Viola/Cesario and Duke Orsino, and Countess Olivia and Sebastian -- have to wade their way through the aforementioned mistaken identity and some innocent deception first.
"Twelfth Night" begins with Viola, played by Hannah Fawcett, washing ashore after a tragic shipwreck which she believes has claimed the life of her twin brother, Sebastian, played by Zac Parnell. Disguising herself as a man, Viola becomes a servant of Orsino, played by Paul Disney. Her alter ego is named Cesario.
Orsino is a hopeless romantic, fixated on Olivia, played by Natalie Richardson. After the death of her father and brother, Olivia has no interest in marriage, but Orsino sends Viola as Cesario -- quickly his favorite servant -- to woo her in his stead.
Cesario is partially successful. Olivia falls in love, but with Cesario, not Orsino.
Meanwhile, Viola is drawn to Orsino, and he to her; though, thinking Cesario is a man, he doesn't know how to explain it.
Confused yet?
Wait until the very-much-alive Sebastian arrives on the scene, making characters believe they are seeing double.
In costume, Fawcett and Parnell are believable as twins, despite an obvious height difference. During a recent dress rehearsal, even a fellow cast member confused the two backstage.
Photo Pete Strong
Zac Parnell, as Sebastian, and Hannah Fawcett as Viola play a pair of twins separated by a tragic shipwreck and brought back together by fate in "Twelfth Night."
"It was dark and he didn't have his eyeglasses, but Orsino (Disney) thought that (Zac) was Hannah," Richardson said.
Dallas' production is set in the Civil War-era South, giving it a familiar and rustic quality.
Blair Cromwell, play director and Dallas High theater teacher, had originally thought of setting the play during World War I, but a trip to Goodwill changed that course entirely. Spotting a red dress suited to a Southern belle -- it would become part of Olivia's wardrobe -- the play's Southern setting began to take shape.
"It gives it a homey feel," said Kyle Stockdall, who plays comic character Sir Andrew Aguecheek. "It makes it a little more relatable."
Ridiculous, but rich Aguecheek is the butt of jokes throughout the play. His "friend," Sir Toby Belch (Nathan Beaton) -- a drunkard who is draining Aguecheek dry -- sends him on the impossible quest to seek Olivia's hand in marriage.
The pair's antics get them into a sword fight, one of Stockdall's favorite scenes. Carefully choreographed, the scene does have them using stage swords -- with caps on the ends.
Stockdall's Aguecheek, as to be expected, is not a valiant fighter.
"I don't have to look like I know what I'm doing," Stockdall said. "I shriek a lot when I'm fighting. It's really fun."
This is Cromwell's first production of "Twelfth Night," which she said explores comic, romantic, along with more serious storylines -- such as the cruel practical jokes on Aguecheek and Olivia's snobby head servant, Malvolio.
The numerous subplots provide opportunities for an ensemble cast to shine, Cromwell said.
"The story is shared by so many characters, not just the main characters," she said.
Showtime!
What:
Dallas High School's production of Shakespeare's "Twelfth Night."
When:
Thursday, Friday and Saturday at 7 p.m.; Saturday matinee at 2 p.m.
Where:
Dallas High School's Bollman Auditorium, 1250 SE Holman Ave.
Admission:
$5. Tickets are available at the DHS office or at the door.
For more information:
503-623-8336.