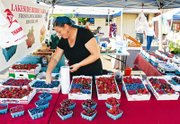 DALLAS -- Changes are coming for the fourth season of the Polk County Bounty Market, which opens May 2.
Previously a late-afternoon market, the upcoming season's hours are 10 a.m. to 3 p.m. The market will also have a new location, the lawn at the Academy Building, near the corner of Main and Academy streets in Dallas.
Last season, market vendors and manager Bonnie Dreier noticed a pattern: busiest hours for sales were before the market officially opened on Thursday afternoons.
"People would come as vendors were unloading their cars to set up, wanting to make purchases," Dreier said.
Bonnie Dreier
Noticing the abundance of early shoppers, Dreier started keeping a close eye on when sales were at the highest.
"Vendors said that their busiest hours were between noon and 2 p.m., which is before market even opened," said Chelsea Pope, the executive director of the Dallas Area Chamber of Commerce and Visitors Center. The market is a program of the Visitors Center.
Market hours have stretched as late as 7 p.m. in seasons past, providing people an opportunity to shop after regular business hours. While that was an often-expressed preference among customers, sales tracking revealed market visitors sharply declined in the late afternoon.
"We have just not seen the shoppers come in after 4 p.m.," Pope said.
Dreier also asked the community for more feedback, from regular customers and those who didn't shop at the market. Most responses identified midday as the most convenient time for shopping. Market vendors also preferred an earlier start time, voting unanimously for 10 a.m. to 3 p.m.
As for the location change, the market's home for the past three seasons, the Polk County Courthouse lawn, may not be the most hospitable place come August.
A major Urban Renewal project overhauling the 800 and 900 blocks of Main Street is slated to begin after Summerfest.
If the market took place on the courthouse lawn, it would be right in the middle of the work.
Construction noise, detours and heavy equipment wouldn't create the best ambience for an outdoor market, so a alternate location was needed, Pope said.
This year, the market will be held just a few blocks north on the Academy Building lawn adjacent to the Riverside Inn. Polk County, which also owns that property, signed off on the change last week.
"This all came down pretty fast, but because of the great partnerships we have with the county and city, we pulled it off," Dreier said.
Dreier said she will be keeping a close track of sales and visitor counts again this year to see if the changes will become permanent.
"I think that we are all sad that it can't be on the courthouse lawn, but we are excited to see if we are able to capture a whole new crowd," Pope said.
Market changes
What:
Polk County Bounty Market.
When:
Thursdays, 10 a.m. to 3 p.m. starting May 2.
Where:
The Academy Building lawn, near the corner of Main and Academy streets in Dallas.
Of note:
Bounty Market is still looking for additional vendors and volunteers to help with set up, clean up, and staffing the manager's booth.
For more information:
503-623-2564; send an email to pcb@dallasoregon.org.