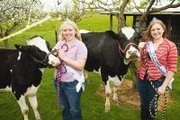 INDEPENDENCE -- It's becoming a family tradition.
In 2012, Emma Miller become Polk County's first Dairy Princess-Ambassador since 2004.
Now she is passing the crown to her younger sister, Olivia Miller, who will be officially crowned Wednesday night as the 2013 Polk County Dairy Princess-Ambassador.
Emma was also named the 2013 First Alternate Oregon Dairy Princess-Ambassador in January, which means she has been filling in when Oregon's dairy princess is not available.
Olivia, like her sister before her, said her main objective is to be a good example and spokeswoman for the county's dairy industry.
"I think I can do a pretty good job, for the most part," said Olivia, who is a junior at Central High School. "It will definitely be a new thing for me because I'm not used to that type of thing yet."
Following her coronation tonight, Olivia will jump into her new set of responsibilities, including appearances at Tillamook's Dairy Parade in June, the Fourth of July parade through Monmouth and Independence, the Polk County Fair and Oregon State Fair. She will also represent the industry in classrooms, speaking to children about the benefits of consuming dairy products.
Olivia will have an example to look to in her older sister, who spearheaded the effort to revive the county's dairy princess program -- sponsored by Oregon Dairy Women -- last year.
"It went really well," Emma said of her year as the county dairy princess. "I put a lot of effort and dedication into the program."
The sisters grew up working with dairy cows through 4-H and FFA programs. While their family doesn't run a dairy operation, Emma said she's learned plenty about dairy farming through the experience. The Oregon State University freshman said the experience has been a primer for her future career as an agricultural teacher and FFA advisor.
"That's really where I flourished in all my speaking ability and people skills and personal development, so I want to give back," she said. "I love speaking to children because they are so enthusiastic about what you are talking about. This has been a great opportunity for me to polish my teaching skills."
Emma's teaching isn't limited to students in classrooms; she's conveying all that she's learned to her sister.
"I have plans for her to be very active at the Polk County Fair and during the summer," she said. "We will try to do more activities."
Olivia, for her part, is eager to start her new duties, even if it means her schedule will be getting a lot more hectic.
"I'm looking forward to it," she said. "All those events ... those sound like fun."
Polk County
Dairy Princess-Ambassador coronation:
Olivia Miller will be crowned 2013 Polk County Dairy Princess-Ambassador tonight (Wednesday) at 7 p.m. in the Polk County Fairgrounds & Event Center's Arts and Crafts Building.