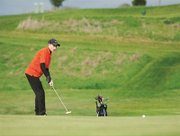 DALLAS -- I'll admit, I did not know what a killdeer was before Thursday.
That was until Dallas sophomore golfer Nolan Miller hit one on his second shot on the 15th hole at Cross Creek Golf Course.
OK, so maybe he didn't actually hit one, but it was close.
"I think I hit a bird," he said with a laugh, as he prepared to take his third swing, still at least 300 yards away on the par-5 hole.
In case you, too, didn't know, a killdeer is a medium-sized plover (i.e. short, stocky bird) that is famous for its "broken-wing" act, where it pretends to be injured to lead predators away from its nest.
As it squawked, flailed its wings and limped about near Miller's feet, he couldn't help but smile.
With a Dallas boys golf team made up essentially of novices -- sophomore Isaak Tichenor has the most experience with one season under his belt -- having fun amid posting frustrating final scores has been pivotal.
Photo by Nicole Watkins
Dallas High's Mason Maddox watches his shot during play Thursday at Cross Creek.
As Miller -- a first-year golfer -- put it, he's not out there to be Tiger Woods.
"I'm not going to go pro or anything, so it's just kind of a hobby. I just want to have fun out there," he said.
That doesn't mean Dallas isn't doing good things.
Miller, playing in the No. 4 slot, hit the best drive of his group on hole 14, with his first shot coming closest to the pin. He would go on to par the hole.
"Since I'm not that good, every time I improve a little more, (the game) gets better and better," he added.
I followed each one of Dallas' top four varsity golfers -- Miller, Tichenor, Mason Maddox and Ben West -- around a couple holes on Cross Creek's back nine.
Believe me, it wasn't all fun.
All four struggled at times -- I even helped each find a couple balls lost in the rough -- but they didn't quit. I walked nine holes -- and my dogs are barking -- and they played 18.
To me, doing that week in and week out and staying motivated to play despite adversity is a victory in itself.
"It's really frustrating," Tichenor, a sophomore, admitted. "But I guess you always have another shot, so you can always just take it out on the ball on the next one."
Maddox, playing in the top group, has aspirations of shooting in the 80s. His best round of 18 this spring is a 95, and he's shot a 40 on nine holes, so it's doable. And this coming from a freshman that said he golfed seven times before this season.
Isaak Tichenor
So while I watched them cringe when a ball didn't go the right way, I smiled when they were able to laugh at themselves just a bit.
"I hope you didn't get any pictures of me, because I just played the worst game of golf I've ever played," West, another freshman, said to me with a laugh.
"I was just playing and I was having a lot of fun."
Not only were they having fun, but they realize there's still time to get better.
Isn't that what sports are all about?
"We're all freshmen and sophomores right now, so we still have a lot of room to improve," Miller said.
I might not have witnessed the greatest golf rounds from any of the Dragons, but I know what I did see:
The right attitudes.
--
Nicole Watkins is the sports editor at the Itemizer-Observer. She can be reached at nwatkins@polkio.com or 503-623-2373.
NEXT MATCH
Dallas at Mid-Willamette Conference meet
When:
Monday, 10 a.m.
Where:
Trysting Tree Golf Club, Corvallis.