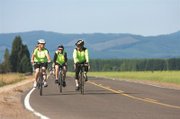 DALLAS -- The Polk Pedalers Bicycle Club will hold its first monthly ride May 4 beginning at 8 a.m.
Everyone with a bike is welcome to join the free rides -- which can range between 20 and 45 miles long -- and no special equipment is necessary, although a helmet and water are encouraged.
The group meets one Saturday a month at the Courtyard Coffeehouse and Deli, 156 SE Mill St., Dallas. The loops vary each ride, with the May 4 event scheduled to hit Monmouth, travel 20 miles and include a road cleanup.
Other dates include June 15 (Buena Vista loop, 40 miles), July 22 (full moon night ride and swim), Aug. 17 (Amity breakfast loop, 30 miles), Sept. 14 (Burnt Woods-Newport, 45 miles) and Oct. 26 (Airlie fall colors loop, 20 miles).
For more information: Dick Dye, bikedog@q.com, 503-623-6533, or see the Polk Pedalers page on Facebook.