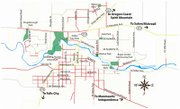 DALLAS -- A general obligation bond and possibly a fee to fix and maintain residential streets?
That's the tentative direction the Dallas Citizens Advisory Committee for Residential Street Funding proposed last week during its meeting.
The committee, appointed by the mayor and members of the city council, began meeting in June 2012 to come up with a solution to the lack of funding for residential roads.
With only about $225,000 available each year for overlays, the city has prioritized collector and arterial streets for repairs. No funding exists for residential streets.
Dallas receives approximately $1 million in federal and state gas tax money, but the funding has to pay for all street-related costs, including staff, street lighting, traffic signals and street signs. The 2013-14 proposed budget has $495,000 slated for overlays, however that includes a decrease in contingency funds.
After considering options including a levy, street utility fees, local improvement districts, and even a local sales tax, in the end committee members see the bond and maintenance fee as the only viable option.
The committee unanimously voted to propose to the council that it consider a general obligation bond to repair or rebuild 90 percent of residential streets to good condition and, if that is successful, propose a mechanism for long-term upkeep.
That is not the committee's final recommendation, but it was proposed to gauge support of the Dallas City Council. The proposal will be presented to the council on May 20.
Committee members would continue working on specifics of the proposal, the most important being the cost of the bond.
When the committee began meeting, it was presented with cost figures from the last time the city proposed a street fee in 2010. Estimates of deferred maintenance costs at the time were $7.5 million, but the figure now is likely outdated.
Jason Locke, the city's community development director, said the city will be updating its pavement condition index (PCI) rating to provide a revised number.
"We were going to update the PCI this fall," he said at the committee's meeting April 24. "It's not necessarily a simple matter because you have to actually put eyes on all the streets."
PCI ratings are a commonly used engineering measurement for pavement condition, using a scale of 0 to 100. In its proposal, the committee placed the ultimate goal to have 90 percent of city streets repaired to "good or very good condition," which equals a 70 or above rating on the scale.
Locke said once a street falls below a 70 percent rating, deterioration accelerates, as does the cost to repair it. He estimates that the city's overall PCI average is 67, with 23 miles (out of 56, including gravel roads) of streets rating below 70.
That is dangerous territory as far as cost is concerned said, committee member Greg Hansen, also Polk County's administrator.
"You aren't just approaching the cliff, you are halfway down the cliff," he said at the April 24 meeting.
If the city council gives the go-ahead for the proposal, the committee likely will have an uphill battle in garnering support -- if recent history is any indication.
In 2010, the council approved a street fee, which was promptly placed before voters in the May 2010 election. It was defeated by a 71 percent to 29 percent margin.
If approved for the ballot -- likely in 2014 -- a general obligation bond would be asking for more.
Locke said the fee proposed in 2010 would have provided about $400,000 per year -- not enough to address the problem.
"The street fee that was proposed and defeated would not have addressed the millions of dollars in deferred maintenance, and at that funding rate would have only allowed us to slow the rate of decline from precipitous to merely steep," he said.
Committee members face yet another challenge: citizen perception of street conditions. City manager Ron Foggin said in a recent survey of residents, most respondents didn't see the streets as a problem.
"I'm sad to report that number didn't come back in what this committee would see as a positive direction," he said. "We've got to plug that hole before we have anymore conversation about cost."