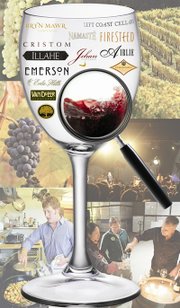 SALEM -- A bill reducing the number of "special events" Oregon wineries can host each year has cleared the state Senate and has been introduced in the Oregon House of Representatives.
Senate Bill 841 also restricts the amount of income a winery can generate through non-wine sales to 25 percent of its onsite retail sale of wine.
Both limitations are proposed by bill sponsors and supporters as a measure that allows for industry growth, but also keeps the Oregon wine industry's attention on one thing: wine.
"We're trying to limit the number of events, and the impact of those events, and keep the focus on wine," said Leigh Bartholomew, president of the Oregon Winegrowers Association (OWA), one of the bill's sponsors.
Additional sponsors are: the Southern Oregon and Willamette Valley winery associations and the Winegrowers Association of Central Oregon.
A "special event" is defined in the bill as one at which the marketing and sale of wine is a secondary purpose, such as weddings, concerts and facility rentals. Under the measure, wineries would be limited to hosting 18 such events per year, down from 25 in current law.
In the Willamette Valley, wineries would need an administrative license to host their first six events and then pursue a simplified land-use permit for the next 12. Outside the Willamette Valley, licenses and permits wouldn't be required.
Those restrictions don't apply to events related directly to the sale and marketing of wine. Under the bill, wineries would be able to host unlimited winemakers luncheons and dinners, wine clubs, winery and vineyard tours, open houses, and wine tastings, and other wine-centric events.
Wineries currently permitted to host events in excess of the bill's limitations would be allowed to continue to do so.
Bartholomew said the bill is the work of a group commissioned by Gov. John Kitzhaber consisting of wine industry representatives, agricultural groups, state and county agencies, and environmental groups.
"This is a consensus bill," Bartholomew said. "Everybody was at the table. We think this is the right bill for the wine industry."
While the measure cleared the Senate with unanimous support Thursday, SB 841 is not without its critics.
Rep. Jim Thompson (R-Dallas) said he is wary of the bill's "one size fits all" limits on winery activities.
He isn't sure the bill's restrictions are necessary in places like Polk and Benton counties, where wineries aren't clustered together like they are in areas of Yamhill County.
"They are tripping over each other up there," he said. "Here, we don't have that problem."
He is also concerned that the bill doesn't amend a provision in current law that allows restaurants at only the state's largest wineries. Thompson would prefer wineries be able to establish a small dining area -- given that they have the necessary facilities -- to enhance the customer experience and for safety reasons. He said often wineries situated in the southern half of the Willamette Valley are miles away from the nearest restaurant.
He said if the worry is that people will build event centers masking themselves as wineries, there are other ways of distinguishing those from legitimate producers.
"I think I can tell the difference," Thompson said. "It's a matter of degree."
Thompson said he's heard a number of such concerns expressed and believes the House, where the bill was introduced Monday, will take a good look at the provisions in the bill.
Bartholomew countered by saying wineries in the area of Yamhill and Washington counties are "canaries in the coal mine" for what could happen if winery activities -- and associated traffic congestion and noise -- weren't restricted.
"If they look ahead, do they really want six wineries on the same road having more than 18 events each year?" she asked. "That's a lot of cars driving on those roads."
As to the question of allowing restaurants at more wineries, Bartholomew said that is an idea the industry should consider in the coming years.
However, she doesn't believe the bill should be amended for separate restrictions in different areas of the state.
"We don't want people to build a business plan around something that is not sustainable," she said.