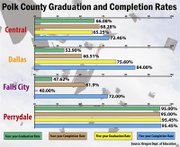 POLK COUNTY -- Four-year graduation rates released by the state last week show school districts in Polk County held steady or increased slightly the percentage of students receiving a diploma on time.
With the exception of Perrydale School District -- which once again had by far the highest rate in the county and one of the best in the state -- the numbers weren't stellar.
But there's a story behind those rates, especially in Dallas and Falls City.
The Oregon Department of Education tracks the four-year cohort graduation rate, following a group -- or cohort -- of students from when they enter ninth grade, adjusting for those who enter or leave a district before graduating, through their senior year.
The rates report how many of those students earn their high school diplomas on time (in four years). The state also lists a five-year graduation rate and four- or five-year "completer rates," which includes students earning GEDs, modified diplomas or alternative certificates.
Dallas' four-year graduation rate is at 52.9 percent, which puts it well below the state average of 68.4 percent.
While the number is technically accurate -- that is the percentage of Dallas seniors who earned a diploma in four years -- Dallas offers a five-year program that skews its numbers considerably.
Graphic by Pete Strong
Four-year Cohort Graduation Rates
The district's popular Extended Campus program allows enrolled students to earn their diplomas and attend a full year of classes at Chemeketa Community College in five years.
Dallas Superintendent Christy Perry said factoring in Extended Campus students the district's four-year rate is 76.8 percent.
"One hundred percent of those students earn their high school diploma," Perry said. "If they weren't on track (for a high school diploma), they wouldn't be in the program and not ready for community college."
Perry added, accounting for Extended Campus, the district's four-year completer rate is approaching 90 percent.
Falls City Superintendent Pat Evenson-Brady said her district's 47 percent graduation rate doesn't reflect what school officials see as a significant accomplishment in 2012. Of the 21 students who could have earned a four-year diploma or other credential in 2012, only three fell short.
The rest left the school in June with a diploma, modified diploma, enrolled in a five-year program similar to Extended Campus, alternative certificate, or GED.
"For that reason, we really looked at 2012 as a celebration," Evenson-Brady said.
That isn't to say Evenson-Brady isn't concerned about the 47 percent rate. She said the district has begun focusing on keeping students on track for a diploma starting as freshmen. She believes the rate will increase while stressing attendance and earning required credits on time.
Perry said it's important to track four-year rates because schools should focus on keeping as many students on track for on-time graduation as possible. However, the current state report penalizes districts for offering programs that help students attend college. She said Dallas and other districts with similar programs have asked ODE to provide an explanation of the low rates on the annual report, but that hasn't happened yet.
Central School District's graduation rate increased slightly to 66.08 percent. Central Superintendent Buzz Brazeau said while he isn't thrilled with the rate, he was pleased to see the district didn't lose any ground. He said that was a real concern with the addition of the reading essential skill graduation requirement in 2012.
"As I scanned many different locations, I saw higher percentages, (but) I also saw dips from the previous year, so I salute the fact that we did not have a dip," he said. "That being said, we will work very hard as a unit to improve all of our performance indicators at all levels, including cohort graduation."
Perrydale School District has by far the highest on-time graduation rate of 95 percent, the same rate it had in 2011.
Statewide, graduation rates increased from 67.6 percent in 2011 to 68.4 percent in 2012.