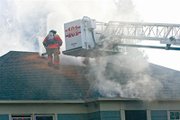 DALLAS -- Nobody was injured in a fire that charred a home in the 300 block of Southwest Birch Street on Saturday afternoon, the Dallas Fire Department said.
Firefighters received a report of a garage fire at about 4:30 p.m. and arrived to find that flames had spread via a covered breezeway to the dwelling's kitchen, Fire Chief Bill Hahn said.
Dallas firefighters, along with personnel from fire protection agencies in Rickreall, Falls City and Monmouth-Independence, contained the blaze after about 45 minutes, Hahn said.
Bill Garland, the owner of the home, and members of his family were inside when the fire started and escaped to safety. Red Cross is assisting with lodging, Hahn said.
The fire is believed to have started after a propane torch was used to burn weeds along the foundation of the garage, Hahn said.
Damages to the home -- including a car, motorcycle and tools in the garage lost in the blaze -- are estimated at $80,000, Hahn said.