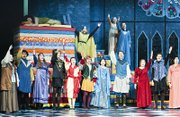 INDEPENDENCE -- Nine feet might not strike somebody as particularly high. But it is if you're trying to act at that altitude.
Emma Thurston has that job in Central High's upcoming production of "Once Upon a Mattress," playing the role of Princess Winnifred; part of the play centers around her trying to fall asleep on a pile of 20 mattresses.
"It's terrifying," Thurston, a junior, said of being on top of the prop. "I'm supposed to be thrashing around trying to find a perfect position.
"Sometimes I can hear audible responses in the auditorium, people scared I'll fall off."
That will be one part to watch for during Central High's performance of this off-Broadway adaptation of Hans Christian Andersen's "The Princess and the Pea." The show begins a two-week run Thursday.
The other attractions, besides Thurston's balancing act? Plenty of song-and-dance routines and students who've typically been supporting players in Central High's theater program moving into starring roles.
"We've got some very talented dancers, but they've all got to be on the ball for this show," said Jeff Witt, Central High theater teacher and director. "About two-thirds of the show is dance."
The plot entails the efforts of Queen Aggravain to keep Prince Dauntless the Drab from being married; nobody is good enough for Dauntless, her son. Unfortunately, royal law decrees that nobody in the kingdom can marry until Dauntless has a wife.
A plot is hatched to match Princess Winnifred the Woebegone, an unrefined princess, with Dauntless. But she must pass a test showing how "sensitive" she is -- if a pea placed under 20 mattresses is enough to keep her awake, she's "sensitive" enough to be a princess.
Photo by Pete Strong
Princess Winnifred, Prince Dauntless and Queen Aggravain, from left, discuss the princess' 20 mattresses.
The play includes a cast of 39, innovative sets -- the aforementioned mattress pile is an illusion, by the way -- and more than a dozen dance numbers with styles ranging from soft-shoe to Broadway routines.
Witt cast many of the main roles with students who have theater experience, but not necessarily as a lead. Junior Jenny Cole, who's mostly starred on the softball field for Central, is portraying antagonist Queen Aggravain; she's never been in a show before, Witt said.
"She was scared about it to begin with, but now she's one of the strongest actors we have," Witt said. "She has a natural, innate ability.
Jeff Witt
"It's good for people to experience this kind of thing," he continued. "I'm also a believer in giving the part to the person who deserved it."
Thurston has had several minor roles in Central High productions, as well as a turn as a wicked stepsister in "Cinderella" in 2012. She's never been the lead.
"In the past, we've had people who were more experienced in larger roles, but now we're the older people," she said.
"It's scary ... but it's a good experience and it's a lot of fun."
Performing On Stage
What:
Central High School's theater program presents "Once Upon a Mattress."
When:
Thursday through Saturday and Feb. 13-16. All performances start at 7 p.m. A special Wednesday (today) show for senior citizens will take place at 6 p.m. There will be a 2 p.m. matinee Saturday.
Where:
Central High School auditorium, 1530 Monmouth St., Independence.
Cast members include:
Emma Thurston as Princess Winnifred; Sterling Sykes as Prince Dauntless; Jenny Cole as Queen Aggravain; Kimberly Tarnasky as Cinderella; Dean Dunmire as Prince Charming; Lucas Fife as Sir Harry; and Hanna Boyack as Lady Larken.
Admission:
Tickets are $8.50 for adults and $5.50 for those 17 and under. Purchases can now be made online at www.centralperformingarts.com. Tickets can also be purchased at the door or by calling 503-838-0480.