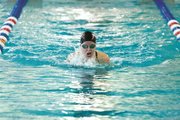 CORVALLIS -- Trying to moderate any high hopes, Jerusha Dressel entered her pressure-packed 100-yard breaststroke district final with a clear head.
"I tried not to have super-high expectations coming into it," the Dallas senior said. "I knew (a district title) was a possibility, but I looked at the times and they were all so close -- it could be any one of us who could be first, second or third."
Possibility became reality for the No. 1-seeded swimmer in the Mid-Willamette Conference: Dressel demolished the Dallas school record by 2 seconds to capture her first district championship during Saturday's Class 5A MWC meet at the Osborn Aquatic Center in Corvallis.
Dressel, according to Dallas coach Jeff Bemrose, is the first district champion in Dallas swimming history.
She joins teammate Deaven Vessell (100 breaststroke) and Kalon Schmidt of the boys squad (100 breaststroke) as the Dragons' qualifiers for Friday and Saturday's Class 5A swimming state championships.
The finals will be held at Mt. Hood Community College in Gresham.
The Dallas girls squad placed fourth in the team standings with 215 points, matching its finish from a season ago, as West Albany took first with 477 points. The Dragons boys finished sixth in the team scoring while Corvallis, with 504« points, won the title.
Dressel's time of 1 minute, 9.34 seconds broke Vessell's previous school record by 2 seconds and gives her a No. 2 seed entering Friday's state preliminaries. It also gives her a legitimate shot at a state title -- Cleveland's Ida Donahue is the No. 1 seed with a time of 1:09.08.
Photo by Nicole Watkins
Dallas' Kalon Schmidt set a new school record with his third-place finish in the 100 breaststroke and qualified for the state meet.
Dressel said the time was a personal-best -- she also swims for the Salem Bearcats club team -- and admitted that taking time away from the pool for an exchange trip to France before the season definitely had a benefit: it helped her relax.
"I think it definitely did (help)," she said. "It put life in priority a little bit. When you swim and you swim and you swim year-round, sometimes you forget what's really important in life."
Vessell placed third in the 100 breaststroke with a season-best time of 1:11.55 to make her third trip to state in the event. She placed fifth in the state finals in 2012.
Schmidt will make his first trip to state after swimming a school-record time of 1:05.83 in the boys 100 breaststroke finals to place third. He's seeded 10th in the event for state.
He didn't know Saturday if he qualified for state, as the complete qualifer list wasn't released until Sunday evening -- but Schmidt admitted making it would mean quite a bit.
"It would be pretty awesome because it's the first year that I've made it," he said. "I've been working so hard because I wanted to go to state in the breaststroke."
The Dallas girls 200 freestyle relay squad didn't make the cut -- the Dragons missed out on the final qualifying spot by 0.3 seconds. It did do something else: broke another school record.
The team of Dressel, Vessell, Allura Eldridge and Brooke Perry set the record during Friday's preliminaries and then broke it again Saturday, placing fifth with a time of 1:50.68.
For Perry, a senior who returned to the team after a year hiatus, it marked a fitting ending to her swimming career.
"I'm really sad it's over, but it's just been really cool because ever since my freshman year I was super competitive and was like, `I'm going to get records and I'm going to be awesome,' and I never did," Perry -- who took eighth in both the 50 and 100 freestyle finals -- said with a laugh. "But this year, it was, `Oh we got records.' It felt cool."
Michael Osborn placed fourth in the boys 50 freestyle (24.28) and the Dallas relay team of Osborn, Schmidt, Jesse Genualdi and Grant Tallon took fourth in the 200 medley relay (1:56.06) to round out top finishes for the Dallas boys team.
CLASS 5A SWIMMING STATE CHAMPIONSHIPS
When:
Preliminaries -- Friday, 1:45 p.m. Finals -- Saturday, 1 p.m.
Where:
Mt. Hood Community College, Gresham.
Dallas qualifiers:
Girls -- Jerusha Dressel, 100 breaststroke (second seed, 1:09.34) and 50 freestyle (sixth seed, 25.86); Deaven Vessell, 100 breaststroke (ninth seed, 1:11.55). Boys -- Kalon Schmidt, 100 breaststroke (10th seed, 1:05.83).