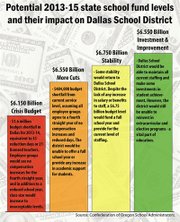 DALLAS -- While school funding scenarios will change numerous times before the state legislature adopts a budget, there is one certainty: those in the realm of possibility leave little to be optimistic about.
Based on information compiled by five statewide education associations that analyzed four possible funding levels -- the lowest being Gov. John Kitzhaber's proposed budget of $6.15 billion -- schools in Oregon could suffer hundreds of millions in cuts. On the opposite end of the budget scale, schools could begin to add back teachers and certain programs, but even that won't come close to restoring what has been lost.
Last week, Dallas School District discussed its own analysis, all which started with the cost of offering a full school year and calculating the difference between revenue and expenditures. At best -- with a state school fund appropriation of $6.895 billion for the 2013-15 biennium -- the district could offer a full school year, restore some teaching positions, provide literacy coaches, and provide more assistance to young elementary students who are not on track.
That's an improvement, but not ideal, said Dallas Superintendent Christy Perry.
Christy Perry
"I think it's really important to note that even at $6.895 billion, we can't invest in everything that we would want to invest in," she said. "Even through we all believe that the art electives, extracurricular (courses) are important, this wouldn't do anything to bring back the things we've lost."
That's likely the best-case scenario, Perry said.
Others include a $6.75 billion state school fund, which for Dallas equates to flat funding with no cuts but no add backs, and $6.55 billion, which would require $484,000 in cuts.
Kitzhaber's proposal of $6.15 billion -- assuming no Public Employees Retirement System reform -- has been labeled "Crisis Budget" by the agencies who compiled the scenarios.
For Dallas, the name is apt. Under that scenario, the district would have to cut $1.6 million, which is equivalent to cutting 33 school days or laying off 21 teachers.
Perry said it's difficult to provide an education to students that meet standards now. It would be impossible with cuts of that magnitude.
"From a staff perspective, I don't know where we make more cuts and not make it devastating," Perry said.
After years of painful reductions, Dallas School Board members were equally frustrated with the options.
"We've made ... the best efficiencies that we can to date," said Mike Bollman, the board's chairman. "To see this `code red' here ... it's insulting that we have to even entertain this as a possibility."
Board Member Jon Woods said the proposals don't provide schools the necessary funding to achieve the state's ambitious education goals. He referred to the state's 40-40-20 goal, which would require all students to earn a high school diploma, with 40 percent earning a bachelor's degree and another 40 percent earning an associate degree by 2025.
"Why even bother making goals?" he asked.
Perry said with new assessment systems, teacher evaluation systems, stricter graduation requirements and new grading requirements, those goals will be more difficult to meet.
"And then we will have every other brand new law the state decides to think about while they are in session," she said. "They (lawmakers) have a No. 1 job and that is to invest in our schools, and right now they are not doing that job."
Historically, however, the legislature's budget is often higher for education than the governor's proposal.
"That is normal," she said. "What is not normal this year is that the governor has pulled off some money out of the state school fund for strategic investments."
Among those investments are early learning targets, state college improvements and taking $120 million from education service districts budgets and directing it to teacher development.
"Our message -- at least my message -- is that every dollar needs to go in the state school fund to fund core education," Perry said.
The district will explore a budget with a $6.55 billion state school fund.
But it's still early, so districts statewide will be distributing information about how the scenarios would impact schools. Dallas will send its own analysis to lawmakers representing the district. Perry added Friday's state revenue forecast was cause for some hope.
Perry said budget shortfalls in recent years have forced the district to become more efficient. She said in some places, that has resulted in improvement. But now those possibilities appear to be running out.
"I think in the classrooms we are more focused than ever because we've had to be," she said. "But I don't know how to start with $1.6 million (in cuts)."