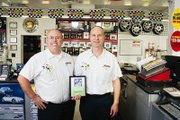 DALLAS -- Les Schwab Tire Center in Dallas is known for its decades of polite and prompt attention to customers in the city it serves.
Friday night, Les Schwab was recognized for that as well as service of a different variety -- community service -- in being named Business of the Year at the 2013 Dallas Community Awards.
The honor was humbly accepted by Dan Furrer, who has been the Dallas store's manager for seven years.
"For me and for the crew it's an outstanding award that we take great pride in," he said, giving special credit to Neil Grubbs, his assistant manager. "We do work hard every day to accomplish the needs of our customers."
And the needs of the area the store serves.
Jim Fairchild, a Dallas city councilor who presented the award Friday, said successful businesses often have two common traits: selling a good product and an excellent level of service.
Les Schwab added to that another philosophy, he said.
"A key element of its success was its small-town attitude, honesty, friendliness, and being a strong contributing citizen of the town," Fairchild said. "Today, even though it has grown into a fairly large company, this attitude is still the backbone of its continued success in both large and small communities."
In Dallas, that philosophy is exemplified through the many organizations and causes to which Les Schwab provides donations. Kids, Inc., Dallas Sounds of Summer, school sports, FFA programs, Summerfest activities, the Polk County Fairgrounds and Event Center, and the Dallas Aquatic Center, to name a few, all have benefited from donations or collections at the Dallas location.
Furrer said such action simply is part of the fabric of the company.
"Part of Les Schwab's philosophy was to be a part of the community, helping the community," he said. "The reason that we work so hard to take care of our customers is because it gives us the ability to give back to the community."
Having worked for Les Schwab for 25 years and in seven locations from Seattle to Mountain Home, Idaho, Furrer said he feels so at home in Dallas he plans to retire here.
"This is a nice, tight-knit community," he said. "I'm very appreciative of the community."