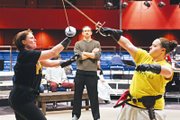 MONMOUTH -- If you're a regular arts patron of Rice Auditorium at Western Oregon University, you know that theater seasons here run the genre gamut -- from a realistic character study in William Inge's "Picnic" to campy humor in "Reefer Madness" to the experimental "Beckett Shorts."
Every few years, however, WOU faculty members can't help but welcome back an old friend.
"I just had a hankering for Shakespeare," said WOU theater professor Ted deChatelet, who's directing this year's winter production. "There's a lot of consideration from the faculty that goes into picking shows for a season, but we try to do Shakespeare every two to three years."
What better way to scratch that itch than a love story replete with tragedy, swordplay, live Elizabethan music, ornate costumes and lyrical language?
WOU's department of theater and dance will begin a two-week run of William Shakespeare's "Romeo and Juliet" on Thursday.
Photo by Pete Strong
Costume designer and WOU associate professor Sandy Hedgepeth works on an outfit that will be worn by actor Lindsay Joliff as Juliet on Thursday.
Selecting "R and J" made sense on a few levels, deChatelet said.
Many don't follow Shakespeare, but have seen some incarnation of this play. It also fits the cast and crew resources at a college or university.
"I've always preferred students playing somebody close to their age instead of trying to pull off `King Lear,'" he said.
Enrollment in WOU's theater program has nearly doubled in the last two years and larger shows are needed to provide more opportunity for students, deChatelet said. "Romeo and Juliet" fit the bill.
"I had imagined that with a cast of 17, I would get perhaps twice that many people to audition," deChatelet said. "We had four times that amount ... I could have cast six different Juliets and all of them would have been great.
"I was able to do a full cast for the show and a full understudy cast so more students could be part of the process."
It's also a highlight for the crew, particularly those involved in set and costume design.
Thirteen costumes were built from top to bottom, using tapestry weaves and upholstery fabric, said Sandy Hedgepeth, WOU associate professor and head costume designer, adding each outfit contains five or six fabrics to give it texture and depth.
Hedgepeth said she wanted to avoid costumes that would clearly split the Montague and Capulet into "teams," Hedgepeth said. Both families don cold and steely colors, while characters such as Romeo and Mercutio are clad in jewel tones.
"It's a real treat," Hedgepeth said of working on a Shakespeare production. "I'm able to push the envelope ... this is a presentational piece with a nod to Italian Renaissance."
Hedgepeth said the costumes had to be built with function in mind -- to survive the faux street brawls between Montague and Capulet supporters and the duel between the characters Mercutio and Tybalt.
That might have been another factor in deChatelet's decision to stage "Romeo and Juliet"; he teaches advanced stage combat and choreography.
"I love doing fight scenes," he said. "And this play's got some great fights."
Curtain Call
What:
Western Oregon University department of theater and dance presents William Shakespeare's "Romeo and Juliet."
When:
Performances will run Thursday through Saturday and March 7-9. Starting time for all shows is 7:30 p.m. A matinee is also scheduled for 2 p.m. on Sunday (March 3).
Where:
Rice Auditorium, WOU campus, 345 N. Monmouth Ave., Monmouth.
Cast:
The cast of 17 includes Luke Armstrong as Romeo, Lindsay Joliff as Juliet, Kim Wilson as Benvolia and Joey Baker as Mercutio.
Admission:
$7 for students, $10 for seniors and $12 for general. Seating is limited to 100 per performance.
For more information or tickets:
503-838-8462. The box office is open from 12:30 to 4:30 p.m.